A training programme can be accredited to provide external verification of the quality of the training. By evaluating your training programme and measuring its effectiveness, we can support you in developing effective strategies to meet your business objectives. These may include promoting excellence within the company, providing cost-effective training or meeting specified learning outcomes.
Successful achievement of CPD accreditation signifies that the company's programme meets the following key criteria:
Transparency – participants can easily identify the potential value
Quality – the training must be delivered to the highest possible standards
Professional development – the programme must deliver tangible benefits to our members in relation to their professional development
CII accreditation is not a requirement for members to claim CII CPD hours. It does, however, provide formal recognition, valuable external benchmarking and tangible business benefits.
Benefits
Supports recruitment and retention through external verification and sector benchmarking of quality standards
Supports achievement and maintains consistency of standards
Promotes and underpins best practice within an organisation or training team - encouraging innovation and excellence whilst promoting professionalism and qualifications
Assists in demonstrating that employees are trained to high standards, which can lead to winning business and revenue generation
The process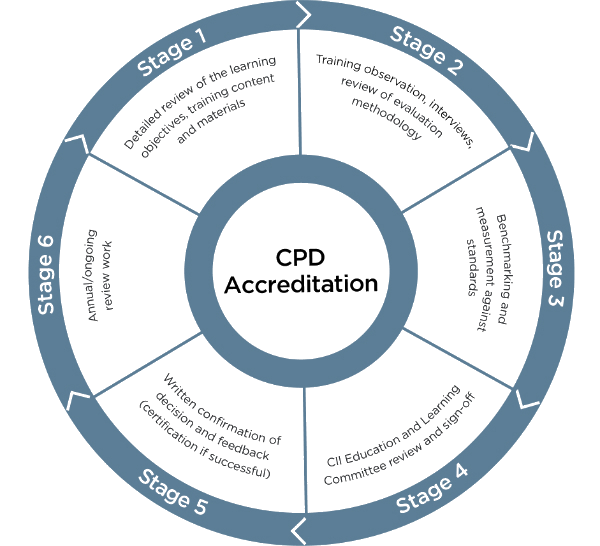 You will need to be able to confirm that your training meets the CPD accreditation standards.
Accreditation fees
The accreditation benchmarking fees reflect the scope of the work involved. We would be pleased to provide a bespoke fee in our proposal.
Upon successful achievement
On successful achievement of CPD accreditation CII offers the programme manager:
A certificate signifying that the programme meets CII CPD accreditation standards
CII Accredited logo for use on collateral related to the accredited programme(s), eg attendance certificates
The option of adding the accredited programme details to the CII website
A written report highlighting the areas of good practice and development areas identified during the review
Ongoing support with the development of the programme through annual reviews
Assistance with publicising the successful achievement (internally and in the industry press)
How to apply
Please contact CII Accreditation Services at ciiaccreditation@cii.co.uk

View companies with training programmes that have achieved CII CPD Accreditation