Digital Code of Ethics
Client Centricity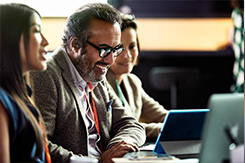 The Digital Code of Ethics has been developed to help practitioners understand how trust in the profession is affected by modern technology.
Our Digital Ethics Forum believed it was important to address the questions posed by the digital age and rise in technology in order to ensure digital solutions enhanced rather than eroded trust in the profession. Questions that became apparent include, how can insurers make ethical use of customer data? How can the conflict of interest be managed? And, how can innate biases of digital technology be mitigated to reduce the risk of discrimination?
Whether you consider yourself a digital business, or a conventional business in an increasingly digital world, changing practice affects the way your customers see our profession, and there are new ethical choices for us all. The Forum has already developed two guides: Digital Ethics, a companion to the Code of Ethics (PDF), which highlights the Code's existing principles applied to new and emerging technological practice, and The Practical Guide (PDF), which looks at examples from the insurance sector and with practical guidance. Both guides sit alongside and complement the existing CII's Code of Ethics.
But technology moves on apace, so these guides can never cater for all potential scenarios. If you think there's a need for more detailed guidance on specific digital themes, let us know. As part of the Chartered community we're encouraging everyone to contribute to the profession, so if you feel you could help develop professional guidance on topics like claims fraud analysis or pricing algorithm, let us know.