A World Of Risk
Building a trusted international insurance profession
A World Of Risk is a CII Special Report that focuses on the world of insurance as a profession.
Please click the thumbnail to download it in full.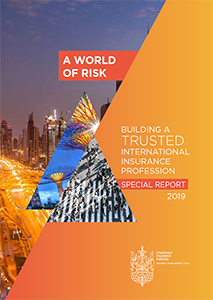 Its purpose is to:
Showcase the inspiring work that's underway, across the world, to build a trusted international insurance profession.
Highlight the crucial role of the CII affiliated institutes around the world.
Promote engagement and collaboration across borders.
A trusted international profession depends upon the contribution of a vast number of individuals and organisations, and we have looked to recognise this within the publication.
The contents include contributions from:
The CII's international affiliate institutes
Experts from across the profession - employers, individuals, regulators and educators.
As well as country spotlights on Ghana and China's Greater Bay Area.
We trust this publication will be of interest and value as you consider opportunities to build a more trusted insurance profession within your marketplace.
If you have any comments or feedback on A World At Risk, please don't hesitate to let us know (email: aworldofrisk@cii.co.uk).
This document is believed to be accurate but is not intended as a basis of knowledge upon which advice can be given. Neither the author (personal or corporate), the CII group, local institute or Society, or any of the officers or employees of those organisations accept any responsibility for any loss occasioned to any person acting or refraining from action as a result of the data or opinions included in this material. Opinions expressed are those of the author or authors and not necessarily those of the CII group, local institutes, or Societies.