Perks
Affinity benefits scheme
Perks is an affinity benefits scheme for all UK and international members. The scheme provides members with access to a wide range of money-saving deals and discounts, all designed to save members money in both their personal and professional lives. The complete range of benefits available includes but is not limited to:
Retail cashback at major retailers including Boots, B&Q, Debenhams, Currys PC World, M&S and Sainsbury's;
Savings on home utilities including British Gas, edf, e-on, npower and Scottish Power;
Discounted health club membership including Pure Gym, Fitness First, Nuffield Health and Virgin Active;
Business offers, from savings on office supplies, Microsoft desktop training and professional development training;
Savings on package holidays including Thomas Cook, Thomson and Cosmos;
Legal advice – a free telephone legal helpline covering employment law, personal accident, and inheritance planning (excludes criminal law);
Health and Wellbeing Hub - an insightful and useful resource for physical, mental and social wellbeing content. Includes 24/7, 365 Wellbeing Support Services.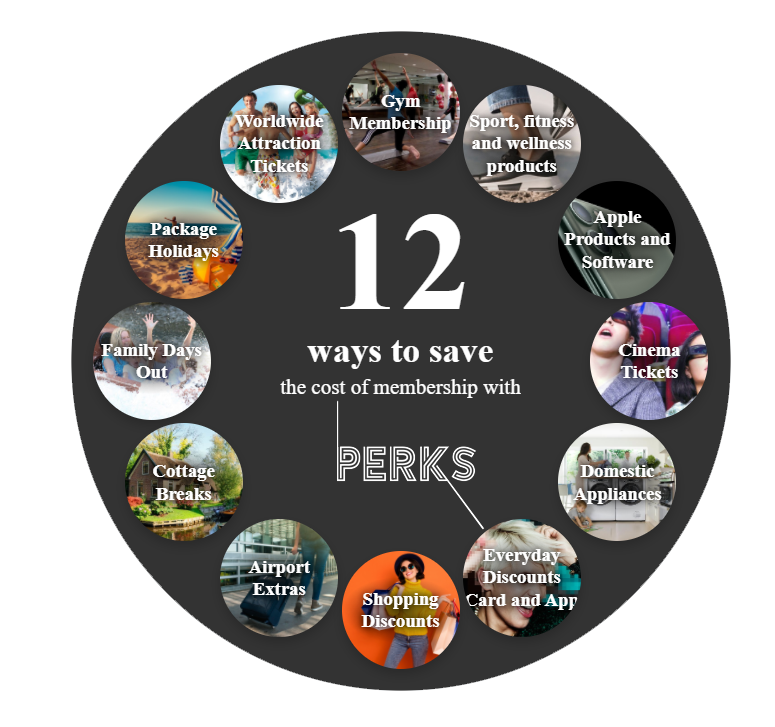 How much could you save?
Whether it's the weekly grocery shop, reducing utility bills, or a weekend takeaway, Perks has a deal for everyone. The Savings Calculator allows members to instantly identify where savings can be made on everyday categories, such as shopping, gym membership and holidays.
And when you add this to all the other savings that can be made through Perks, you could be saving hundreds of pounds a year.
Perks Price Promise
It is becoming increasingly easy to find 'competitive' deals and offers through work or on the internet. That's why the collective bargaining power of the membership has been harnessed to bring you, wherever possible, prices which we believe are very hard to beat. Many of the benefits offered via Perks bear a price promise stamp:

Free Price Promise - This stamp means that you will get the service for free.
National Price Promise - This stamp means that you should be getting the best possible price / deal in the UK, for this product or service, subject to any limitation that may apply to where that product or service is offered.
Provider Price Promise - This stamp means that you should be getting the best possible price / deal that this company makes available.
Although there will of course be exceptions, it is our intention to ensure that members can always access the very best prices available. And if we are ever wrong, we will do our best to make sure that you end up with the best rate and something extra in recognition of your time. We estimate that with fair usage of the benefits available, you could easily recoup the cost of your CII membership subscription, if not much more. To explore the full range of benefits, visit perks.cii.co.uk. You will need your CII PIN and password to log in.