Who can borrow?
Any member of the Chartered Insurance Institute (CII) or The Personal Finance Society (PFS) can borrow non-reference books from the print collection. Items are issued on loan on the understanding that they are for the use of the registered borrower and will not be lent to others. 

Postal loans are available throughout the EU/EEA to members who are unable to collect books in person. Please note, members are responsible for all postage fees. 
What can be borrowed?
The majority of our print books may be borrowed. Up to ten books at a time can be taken out per member. If a library item cannot be borrowed there will be a note stating the item is 'Reference Only'. A copy of a single book chapter or journal article may be requested. Please see the request a copy page for details. 
Where can I search for books?
In the CII website, in the search box you can type the title that you are interested in.

Click on the magnifier glass.
Now, on the right side of the page click the box "Library Resources" and finally click on "Update".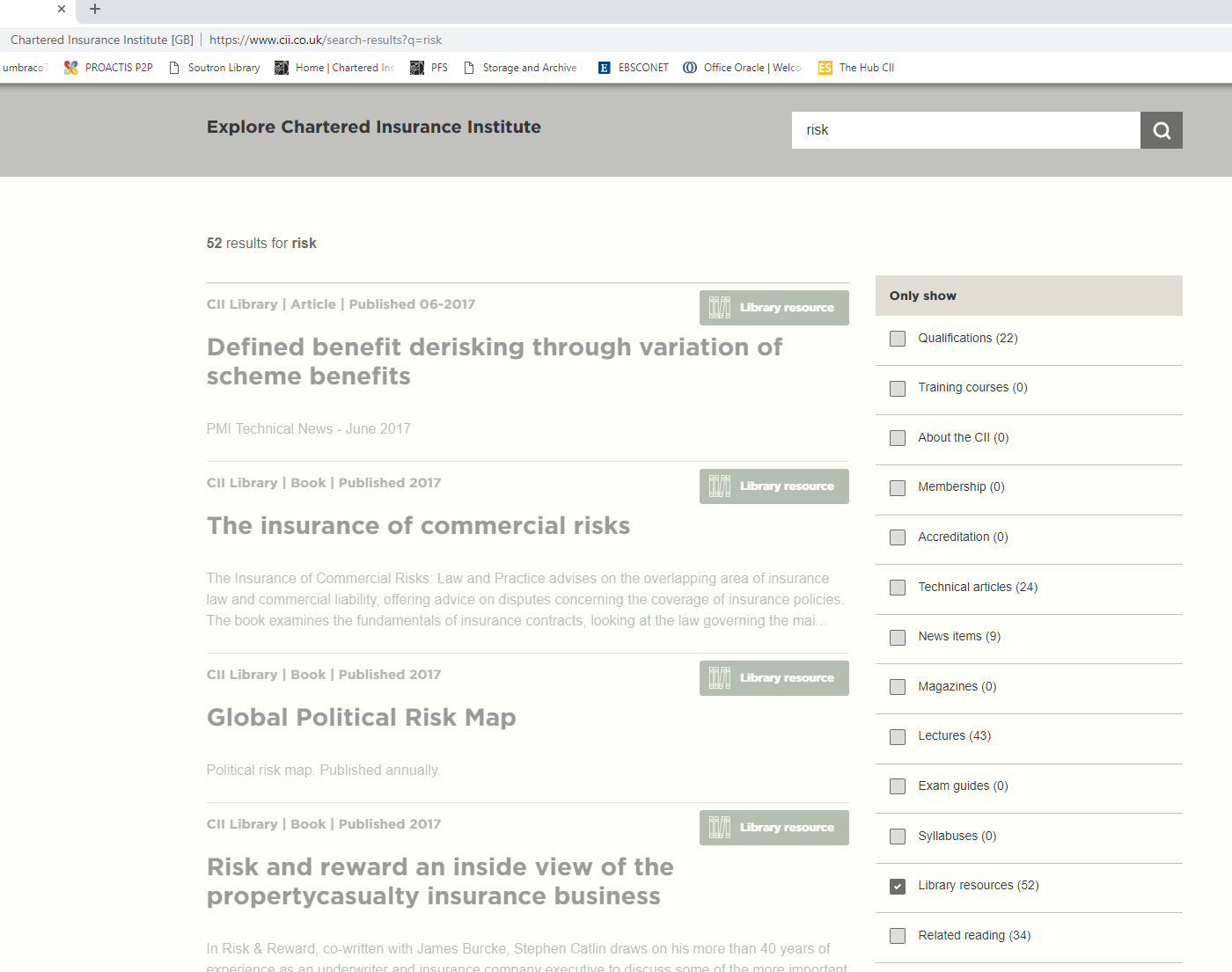 Click on the title and scroll at the very end. You will see two ways of requesting a book, by collecting them from the CII Offices or by postal loan.
Choose how you want to receive them and submit it.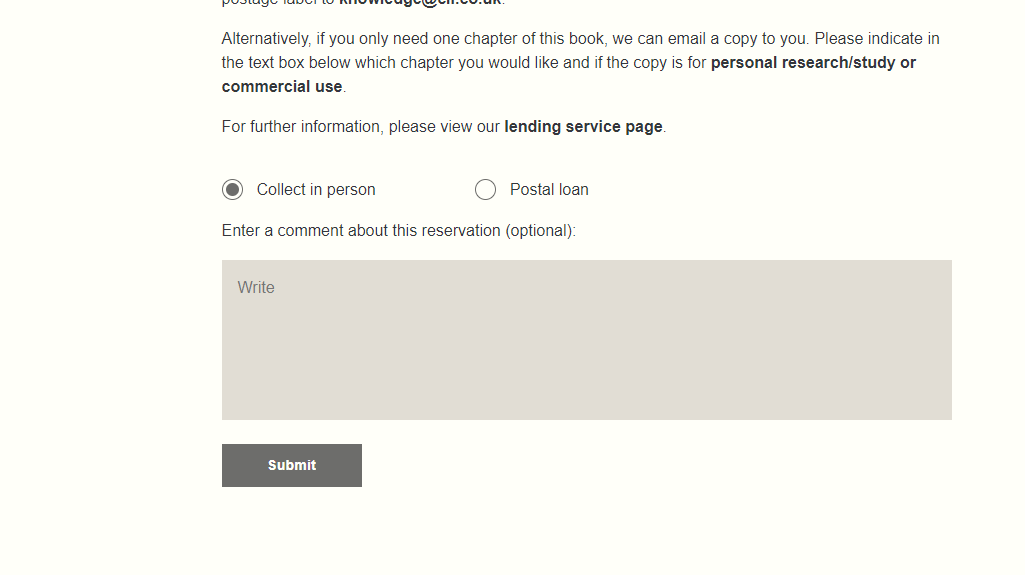 How long can I borrow for?
The initial loan period is four weeks. This may be extended five times, for a maximum loan of six consecutive months. The total amount of books that can be borrowed is 10.
Items on loan must be returned, or the loan renewed, on or before the due date. 
Whilst a reminder email service is in place, it remains the responsibility of members to monitor the due date of their items to ensure their timely renewal and return.
Provided the item has not been reserved by another reader, a loan may be renewed two times. Books can be renewed online upon receiving the reminder email, by telephone, or emailing knowledge@cii.co.uk.
How do I borrow? 
Once you have identified a book that you would like to borrow, please email us.
You will receive an email confirming your request. Please be aware that as the print collection is now held offsite, it may take up to one week to receive available items.
How long does it take?
Book requests received by the end of the day on Tuesday will usually be available on Thursday, two days later. Requests received after Tuesday should be available on Thursday of the following week. You will receive an email when the requested book is available.
When you request a book, we will place a reservation request on it. If it is currently being borrowed by another member, it will be returned when the loan expires.
We will contact you when the book becomes available. Out of courtesy to other members, please contact us if you no longer need a book that you have requested. 
Where do I collect/return books? 
Reserved books can be collected in person from the reception area in the CII offices Monday to Friday between 9am and 5pm. Members who are unable to collect/return books in person may be able to arrange a postal loan. Please see details of our postal loan service below. 
Books should be returned to the concierge desk or by post to:
Knowledge Services
Chartered Insurance Institute
21 Lombard St, 1st Floor
London
EC3V 9AH
If you are posting books back, you must package them securely in a water-tight padded envelope or box. Members will be responsible for books lost due to inadequate packaging. We recommend returning all books by recorded delivery and to retain proof of postage in case books are lost in the post.
Requesting a postal loan
Postal loans of non-reference books are available to members located throughout the EU/EEA who are unable to access the CII offices. Members are responsible for all mailing costs, including insurance for books priced over £100. 
Postage can be purchased online from Royal Mail or Parcelforce. Once you have purchased the postage label, email this to knowledge@cii.co.uk. Include your PIN in the email. If you are unsure of the weight and value of the books or the parcel size we can advise on this. 
Postal loans will be issued when we receive the postage label. 
You can track your parcel online at Royal Mail or Parcelforce. 
We reserve the right to refuse requests.
Are there fines for late returns? 
We do not issue fines for overdue books. However failing to renew or return a book by the due date will result in the suspension of the lending and other knowledge services. 
Losses
You are responsible for items on loan to you until they are returned to the CII. In the event of loss you will be invoiced for the current price of the item (or the current price of a comparable item if out of print). However, you will not be held liable for any loss in the return post provided that the parcel has been properly wrapped and you have a "proof of postage" certificate (available for free from UK post offices and with the purchase of online postage).