Prior learning accreditation
CII prior learning accreditation signifies that the programmes and assessments are of an equivalent standard to CII examinations. Participants successfully completing these programmes are eligible to claim CII prior learning credits, ensuring a faster-track completion of CII qualifications through avoiding duplication of learning.
Accreditation is awarded when a formal review confirms that the programme meets the standards of CII examinations. The key areas reviewed are the programmes:
Learning
Assessment
Governance
By evaluating your training programme and benchmarking against our exam standards we can support you in developing a programme that meets your business objectives, including raising professionalism and increasing attainment of professional qualifications.
This will help achieve and maintain consistency of standards of training provision and assessment across the organisation.
Benefits
A fast track and cost effective solution for employees to achieve professional qualifications - encouraging professionalism and supporting career development
Reduces the time and cost associated with duplication of study
Provides evidence of commitment to attaining industry recognised standards supporting recruitment and retention and meeting customer needs
Promotes and underpins best practice within an organisation or training team - encouraging innovation and excellence and promoting professionalism and professional qualifications
Supports a structured training pathway for retaining employees
The process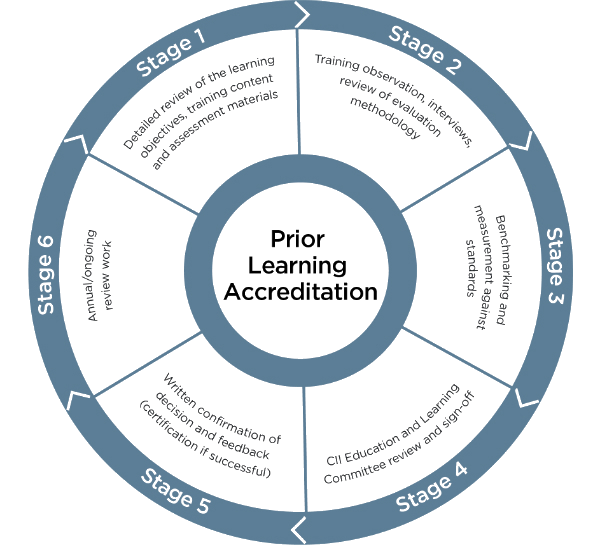 CII prior learning accreditation standards
Prior learning accredited training programmes meet the Prior Learning Accreditation standards.
Accreditation fees (mandatory centre fees)* 
A company's in-house training programme can help employees attain recognised CII qualifications. The fees will reflect the scope of the work involved. Indicative fees are outlined in the table below.
| | |
| --- | --- |
| Level | Fee range |
| Certificate | £12,500 - £20,000 |
| Diploma | £15,000 - £25,000 |
| Advanced Diploma | £17,500 - £30,000 |

N.B. Accreditation is subject to annual review. The annual review fee is c. 40-60% of the initial accreditation fee, payable on an annual basis for the duration of the accreditation.
* The term 'Mandatory Centre Fees' is defined by our regulators, Ofqual, CCEA and Qualifications Wales, to create consistency between UK-based awarding organisations. A company, whose training programme is recognised in the CII qualification framework, is regarded as a 'centre' and the fees applicable for recognition are the 'mandatory fees'.
Upon successful achievement
On successful achievement of prior learning accreditation CII offers the programme manager:
A certificate signifying that the programme meets CII prior learning accreditation standards
'CII accredited' logo for use on collateral related to the accredited
programme(s), e.g. attendance certificates
The option of adding the accredited programme details to the CII website
A written report highlighting the areas of good practice and development areas identified during the review
Ongoing support with the development of the programme through annual reviews
Assistance with publicising the successful achievement (internally and in the industry press)
Successful candidates are awarded credits into the CII qualification framework.
How to apply
Please contact CII Accreditation Services at priorlearning@cii.co.uk

View companies whose training programmes have achieved CII Prior Learning Accreditation
We are closing this scheme on 31 August 2021. Please contact us for further details.