Recent developments in general insurance underwriting
Factsheet
The development of new technologies and the greater ability to collect and analyse data at a granular level has a fundamental impact on the ability of insurers and their underwriters to select and price risk. 
Last updated by Massimo Vascotto in December 2016.
Contents
Summary
The development of new technologies and the greater ability to collect and analyse data at a granular level has a fundamental impact on the ability of insurers and their underwriters to select and price risk. The most efficient insurers will be able to build more balanced and better priced pools of risks. These new capabilities cause also social concerns, in terms of privacy of data and in respect of the insurability of some individuals, which could be screened out by new predictive technologies, making them uninsurable.
The ability to analyse data can also give a competitive edge to insurers, allowing an insight in the buying habits of insureds, enabling the insurer to understand  why a specific customer find a specific premium competitive and allowing the insurer to exploit the price elasticity of demand, to obtain increases in premium up to the level the insured is available to pay.
This approach has been criticised by some quarters, defining it as "price discrimination". Both the USA and UK regulators are looking into this matter to prevent discrimination against consumers. On the side of the insureds, a new trend in personal lines has developed with peer-to-peer insurance, a mutual risk sharing mechanism, enabled by the ease of social connectivity, where social networks connecting groups of friends, members of a sports clubs or tenants in a building share a large deductible or pool their risk.
Behavioural economics have been applied to insurance, not just in respect of the purchasing decision making of insureds,but also about the behaviour of underwriters assessing risk and their mental processes in deciding which risks to insure and at which price. Studies have looked at the biases of underwriters, when they follow a "herd" mentality in blindly accepting the views of the market or when they ignore rare but catastrophic losses in an attempt to price optimistically. Only putting a step-by-step process in place, which includes pricing tools, peer review, worst case scenario analysis etc. can help preventing a thinking mechanism which is deeply ingrained in our brains.
The role of the underwriter will change also in other ways, as new technologies have automated most of the administrative and repetitive work of underwriters. Underwriters will take on new, possibly more interesting roles, spanning from decision scientists, empowered by big data and behavioural economics, to innovators, creating new insurance products.
Knowledge will remain fundamental to underwriting, which justifies the concerns  expressed from various quarters, including the CII, in the skills shortage in UK general insurance, the culprits being both the cuts in training and development budgets in the last two decades and the prolonged soft market, which has created an environment where risks can be easily placed with underwriters, reluctant to ask relevant questions or to challenge the proposed  terms for fear of seeing the business going to even less inquisitive competitors.
The impact of technology
Statistical analysis of data is of fundamental importance to insurance. Technology has had a huge impact on underwriting in both personal and commercial insurance over the past decade. Changes in technology in the area of collection and analysis of data will change the level of asymmetric information typical of the insurance market. Insurers with the most advanced pricing tools and the most granular data base will be able to identify the best clients to insure, i.e. those with the lowest risk features, while higher risk clients with enough data to assess their own risk profile might be able to find advantageous cover with less sophisticated insurers, which would therefore suffer from adverse selection at the hand of more knowledgeable insureds. Those insurers which will lie behind in this area may find themselves writing a whole book of risks on inadequate terms and rates.
The Internet of Things (IoT) and Big Data
The IoT is not a new concept for the insurance industry; it was originally implemented in the Property and Casualty (P&C) segment using a concept known as usage-based insurance (UBI) for vehicles.
As an example from the motor insurance market, as drivers drive, insurers remotely gather data and actuaries analyse performance in near real-time. The automation of once-manual tracking allows underwriters to improve pricing and insurers can close claims more quickly and improve loss adjustment ratios. The end result of this process improvement is a positive customer experience.
Insurance companies learned that by applying an IoT methodology to how their customers interacted with risk behind the wheel, they could gather the raw IoT big data they needed to help lift the overall profitability. They could do this while rewarding their less risky customers with discounts and enhancing their value proposition to the consumer (emergency road side assistance, vehicle recovery, vehicle maintenance alerts, etc.). Data telematics on mobile phones will enable insurers to collect even more data about the habits, behaviours and preferences of their insureds. Underwriting will move from an experienced-based approach, relying on past statistics and proxies such as age, marital status and gender, which led to some unfair cross subsidies, to real-time exposure provided for by connected devices such as smart phones. Such level of granularity may cause also some concerns, not only in terms of privacy of data, but in relation to fairness to insureds. Traditionally, large pools of insureds collected premia from the many to pay for the losses of the few, which could not be identified in advance. The law of large numbers enables insurers to deal with imperfect knowledge, by aggregating many individual risk exposures in a pool to make the losses more stable and predictable, irrespective of which one of the insured risk will cause the loss to the pool.
A finer ability to predict which risk will cause a loss to the pool undermines this principle, allowing insurers to select single risks to a much finer degree, causing some risk to become uninsurable, which is a concern if insurance is to have a social function. A typical concern is health screening which can predict the predisposition of an individual to develop cancer later in life, leaving that person potentially without protection from life and health insurance. This can cause tension between the state as provider of the health system and social security and insurers. In some countries laws have been passed to prevent the use of such data to make people uninsurable.
Whilst automation of the underwriting process should never fully replace the judgment of an underwriter, it has helped to move underwriting in some part from an art to a science by bringing greater objectivity, discipline and rigour to the process consistency. There has also been an increased focus on the capture of data in both underwriting and claims systems, in order to ensure timely analysis of trends and allow shifts in underwriting guidelines or portfolio mix.
Research, conducted by Marketforce, the Chartered Insurance Institute and the Chartered Institute of Loss Adjusters in conjunction with Ordnance Survey, found that 82% of those questioned believed that insurers that do not capture the potential of Big Data will become uncompetitive. 
The survey of members of the CII's Underwriting Faculty also revealed that 9 out of 10 underwriters think that access to real-time claims data would help price risk more accurately, with motor (88%), household (76%) and health (60%) being cited as the insurance lines where pricing accuracy could be transformed by Big Data-enabled pricing models.
 
Whilst there is a hunger for better insight, the research showed that too many insurers believe they are ill-equipped to capture the potential of Big Data. Ninety-five per cent agreed that many underwriting departments lack the necessary tools, whilst 81% agreed that many underwriting departments lack the specialist skills.[1]
There are also other ways in which technology can help insurers collecting a different type of information, after a loss has happened. In the USA, the Federal Aviation Administration (FAA) has recently given approval for the use of drones in the review of insurance claims. Insurers are able to use small drones to conduct inspections for risk assessment, risk management, loss control and surety performance for clients.
Drones have the potential to significantly change the way property insurance adjusting is performed. As ease of portability, navigation and the ability to take high resolution video and photos make drones the ideal solution for supplementing insurance claims adjusting[2].
Drones have been used by insurers in the UK to assess flood damages[3]. They have been used to direct staff on the ground rather than assess damage directly. They also assisted in drawing a picture of the areas affected and those who were not. Guy Carpenter, R/I Broker, deploys them on behalf of insurers and expect in few months to use them also for claims' assessment. Cunningham Lindsey used them also in relation to storm Desmond.
The UK insurance industry is making Big Data a strategic priority in 2016.Research commissioned from Censuswide by the data warehousing company Teradata has found that 82% of UK insurance companies with more than £500m turnover are prioritising Big Data strategies in 2016. The survey polled 300 senior decision makers from the insurance industry, split evenly between the UK, France and Germany. In the UK, 42 respondents were from companies with turnover between £50m and £500m and 22 from companies with turnover of £500m or more. Among the smaller UK-based firms, a minority of 46% are making Big Data a priority. Some 73% of the larger firms are using big data to tackle insurance fraud.
Large French and German firms are ahead of the UK when it comes to what the survey calls "full deployment of customer data". On average, 76% of the French and Germans do this, while 63% of the British insurers do. The survey also looked at internet of things (IoT) data. Here, the British insurers were ahead in their use of IoT data, such as telematics in car insurance
More future-forward looking insurance firms are realizing that they can increase their profitability metrics and better their risk modelling by investing in the Internet of Things (IoT). IoT devices and solutions can help insurers increase new business success rates, boost renewal retention, maintain claims best practices and improve overall loss adjustment expense ratios.
Distribution developments in Personal lines and small commercial
[4]More than a third of UK personal lines customers buy their motor, home and travel insurance via the internet or by phone, direct with an insurer, though an affinity scheme or online on an aggregator's site. Aggregators control 70% of all motor new business in the UK. Agents and regional brokers are losing their market share of personal lines, while national brokers and brokers selling online or by phone are holding to their clients. In the UK now five insurers write 63% of direct business. Some direct insurers have expanded to the SME market: e.g. the Direct Line Group in 2015 had 700,000 commercial policies in force, along with 14% of the motor market and 17% of the household insurance market. The line between direct business, brokers, aggregators and other channels has become blurred, as also Direct Line uses the broker market for SME business.
In the UK the top 4 aggregators (Go Compare, Confused, Compare the Market and Money Supermarket) make up 90% of all aggregator sales. In early 2016 however Money Supermarket announced a 10% fall in premiums captured by aggregators for the last quarter 2015[5]. Google has pulled out of the UK motor insurance online market  in March 2016 with its online comparison site Google Compare. This seems to indicate the market is now highly saturated.[6] Very high advertising costs to maintain brand awareness have also put pressure on insurers considering entering the aggregators market.[7] They are paid on a "per click" basis and a fee for each policy which is finalised.
While Bancassurance has a vast market share in the personal lines in some countries like Portugal (80%) and Spain (77%), the UK has the lowest penetration (18%),after Greece (15%) in Europe.
Thanks to more sophisticated systems, some insurers are now able to quote and bind online larger risks, such as SME with up to £7.5 m turnover in different occupancies, e.g. plumbing, plastics, printing etc, not just shops and offices as few years ago.[8]
Insurers are also able to use external unstructured data such as webs chat and social media to base their underwriting decisions on[9]. These tools save times in risk presentation for the broker and reduce the need for referrals to underwriters.[10]
A new trend in personal lines insurance is peer-to-peer insurance, a mutual risk sharing mechanism, which has been enabled by the ease of social connectivity and a move towards a "sharing economy. Some start-up companies have devised social networks connecting groups of friends, members of a sports clubs or tenants in a building to make them share a large deductible or pool their risk. Through mobile technology, individuals can invite others with similar insurance needs to form co-insurance pools. Each member pays a premium which is pooled to pay out future claims.
The benefits, apart from saving on costs and administration, are to improve risk related behaviour and reduce fraud.  Friends, colleagues and relatives can be more capable than insurers to avoid high-risk individuals in the pool and are also bound by closer social ties than the insureds in a classical insurer's portfolio, so they are more likely to be honest with each other, preventing fraud and exaggerated claims. Being part of the same pool and sharing its costs also deters an insured to file small claims, knowing that the administrative costs to the pool will outstrip any benefit from the indemnity. The more connections one user has, the more the risk and claim is shared and the classical insurer pays only the amount in excess of the shared claim's amount.[11] An example in the UK is the company Guevara, offering Person-to-Person motor insurance.[12]
However, all this progress comes at a price: IT systems are costly to maintain and replace for reinsurers: The Co-operative General Insurance Division Reported an Operating loss of £17 Million for the first half of 2015 after incurring £17.3 M to replace its IT legacy system.[13] Another limitation to Peer-to-Peer insurance pools is their size, as some type of exposures they aim at covering exceeds their financial capacity based on the collection of premia from members.
Further technological developments might enable blockchain technology to set up insurance pools with a widely dispersed network of members. Blockchain technology could have an impact on underwriting: smart contracts might automate the underwriting activity, where pools of risks are built automatically by the system.
Brokers have gained power in their relation with insurers, also due to the prolonged soft market, being more selective about the number of insurers they are ready to deal with. Brokers are creating panels of insurers, facilities and quota share arrangements to cut time and expenses in placing risks to boost their own profitability. Often these facilities increase brokers' earnings through enhanced commissions, fees for performance analysis, early sight of renewal lists or profit commissions. Brokers are suffering from increased administrative and regulatory costs, while the soft market reduces the amount of premia on which to charge commissions. At the same time direct market players and aggregators are attacking the traditional brokers' client base.[14]
Insurers joining facilities face additional commissions but get access to a pool of business; still, they have to write a certain amount of business to stay in the facility. Insurers also have to agree to Service Level Agreements for speed of service, hit ratios etc. to stay in the facility. Business is increasingly written under facilities and open market flows are reduced and some anti-selection introduced. Lines between insurers and distributors are becoming blurred.
The Gender Directive has had an impact on underwriting motor risks, pushing for further developments of telematics, with the creation of products targeting young female drivers, offering attractive conditions making sure they do not subsidise male drivers with a much worse exposure to risk. The distribution of the product is not restricted to women, but it is designed in a way to attract and remunerate drivers with a determined driving pattern.[15]
Price Optimisation[16] or Dynamic pricing
The increasing interest of insurers in securing new business to boost their market share and profit, coupled with the development of price comparison web-sites and the tendency of customers to shop-around has caused the development of price optimisation tools and techniques. At the same time, commoditisation of insurance products has focused the attention of customers on price rather than cover.
This quantitative rather than qualitative approach to insurance products has allowed insurers to use data collected on price comparison web-sites to better understand the buying habits of customers. This knowledge enables the insurer to understand  why a specific customer find a specific premium competitive. It has also allowed dual-pricing, i.e. pricing the same risk differently to existing customers and new customers, the latter receiving a lower offer, which has often meant that existing customers often shop around to get the benefit of being priced as new customer from a competitor.
This increase in competition and negotiation around price has caused insurers to exploit as much as possible all data available regarding the price elasticity of demand, so to discount their prices to the minimum level needed to win the business. This has been applied not just to new discounted business, but also to existing business, to obtain increases in premium up to the level the insured is available to pay. This approach has been criticised by some quarters, defining it as "price discrimination". This approach abandons the traditional actuarial based pricing, which builds up the price from its actual cost components, primarily the estimated future cost claims, other expenses, reinsurance costs, adjusting it for investment income.
Traditionally, the impact of competition to the price was left to the intuitive judgement of the underwriter. With more sophisticated software and availability of data, insurers have been able to factor in the price the inclination of each customer to accept a certain premium level without seeking cover elsewhere. Pricing slowly moved away from risk rating factors into the evaluation of the availability of each customer to pay the highest possible premium.
This approach to pricing has found critics, especially in the US. In October 2014 the insurance regulator for Maryland found that price optimisation resulted in unfairly discriminatory rates and therefore unlawful: other seventeen US States has followed Maryland decision, on the basis of US insurance law which states that "rates shall not be inadequate, excessive or unfairly discriminatory". In the UK the FCA has launched a market study at the end of 2015 into the use of Big Data in general insurance.
Behavioural underwriting
Behavioural economics help shed light about not just the decision making process of insureds when purchasing insurance[17] but also about the behaviour of underwriters assessing the risk. Like other humans, also underwriters fall prey of mental shortcuts to make decisions by a rule of thumb: heuristics is the scientific terms for such decision process. The Nobel Prize Daniel Kahneman has identified two systems of thinking: System 1 Thinking, which is automatic, fast, unconscious and associative and System 2, which is reflective, slow, conscious and analytical. System 1 is our default System, and relying on it in underwriting creates the issues outlined in the table here below[18]: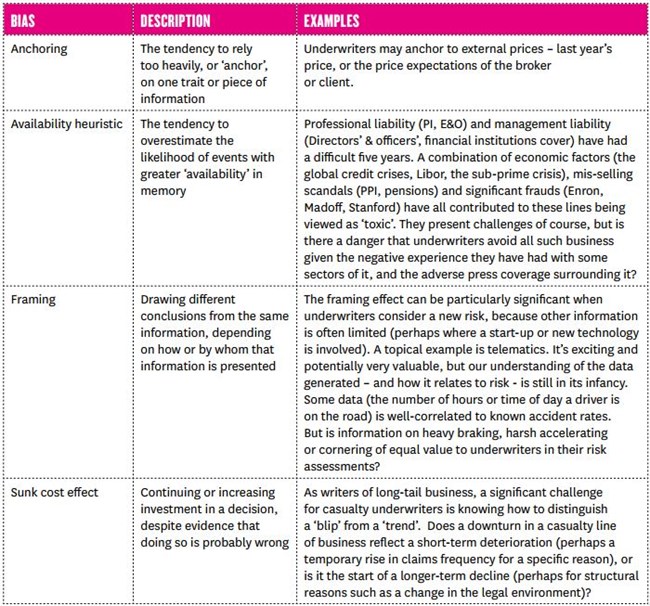 Underwriters, as any human being, are victims of their decision bias, on how they approach statistics but also how they interact socially with brokers: we tend to respond well to people we perceive to be similar to us (in-group bias). The "herd mentality" explain why insurers and reinsurers follow each other's behaviours without challenging the consensus view. It is impossible to change this human decision making process which is 200,000 years old, but underwriters can consciously make the effort to follow a technical step-by -step approach to underwriting and using pricing tools to avoid the fast thinking, intuitive approach.
A typical decision bias by underwriters is ignoring the possibility of a catastrophic loss/claim, i.e. not contemplating the full extent of the worst case scenario. A soft market fosters this type of thinking, to justify a premium below the technical rate.
The fast thinking approach might however be useful in face-to-face interaction, e.g. in giving us clues if the other party is being open and honest during the negotiation.
While the decisions biases by underwriters cannot be totally eradicated, they can be reduced by putting in place a process which forces the underwriter to take decisions on a step-by-step basis, also using  peer reviews, creating an official challenger role and building up worst case scenarios to force the underwriter to consider any eventuality which might affect the risk.
The new roles of the Underwriter[19]
New technologies have automated most of the administrative and repetitive work of underwriters, who can now focus on higher value tasks. The main task and roles the underwriter of the future could embrace are:
Sales executive: the underwriter has access to a vast amount of information about clients and their risks and can follow the process of servicing them from the sale to the claims handling. Underwriters would be best placed to devise promotional campaigns, cross and up-selling initiatives and client retention strategies.
Decision scientist: Underwriters will be able to use data at a high level of granularity to improve decision making with rules-based decision support, relying less on intuition and gut feeling and more on data and statistics.
Customer advocate: The underwriter will leverage his/her position , building teams to support the client across the whole service process, from claims to accounting and risk management.
Innovator: Underwriters will gain deeper knowledge not only of the insurance industry but also of the industry where their clients operate. This will in turn enable underwriters to create new products, using also third party data and sensor-based technologies to monitor real-time exposure to apply real-time premiums and policy terms.
Training and development
The 2015 annual Skills Survey from the CII has revealed that the skills shortage in UK general insurance has reached worrying levels. Employers are having particular difficulty in filling technical roles with specialised knowledge and experience. Over the last decade, training budgets and graduates programmes have been cut, while employees with expertise and experience are leaving the insurance industry as they retire.[20]
The prolonged soft market has had a negative impact on underwriting skills and on the training of new underwriters. An environment where brokers can place risk easily with underwriters, reluctant to ask relevant questions or to challenge proposed policy wording for fear of seeing the business going to even less inquisitive competitors threatens the reputation of the London Market as a place with skilled underwriters. A shortage of future talent is a key threat to the UK insurance industry[21] .
The UK Insurance Industry lags behind most EMEA Countries in attracting young talent, who prefers other industries, especially telecommunication, high tech, banks. At the same time, new and established companies outside the traditional insurance industry are attracting talent from the insurance industry. For example, a peer-to-peer insurance start up has hired a product development specialist, a chief underwriting officer, a claims specialist and a head of financial planning from some major traditional insurers.[22]
The decision of the UK to leave the European Union could create barriers to the free movement of people, causing a further reduction in the talent pool available to the UK insurance market.
Product development
Some start-up insurers have been targeting some underserved areas of the market, to increase their market share. Bespoke insurance products for millennials is one of these areas, such as gaming equipment insurance, university student cover and partnership with low-cost airline to sell travel insurance with perks like mystery trips. Another area of development is insurance-by-the-month for start-up digital companies, as paying a 12 months premium in advance is unattractive for a company which might not be in business in 6 months' time. Pet insurance is also undergoing a change in approach through digital channels.[23]
The "sharing economy" has also caused new insurance products development. For example SafeShare, a broker, has been offering, via Lloyd's, coverage for Airbnb landlords, as traditional household policies exclude from cover damages caused to or by paying guests[24]. Another feature of the sharing economy impacting insurance is the rise of  mutual schemes across household insured to pool together to insure their policy excess.
Offshoring and outsourcing
In the insurance outsourcing sector offshoring is commonplace, with India having a 46% share of the global BPO market. The Indian insurance sector has grown substantially since the market was liberalised through the Insurance Regulatory and Development Authority Act 1999. KPMG[25]  research shows an over 25% increase in offshoring insurance deals in India between 2014 and 2015. Insurance delivery centres to serve the offshore market have also been set up in China, the Philippines, mainland Europe and Latin America.
Australia is the biggest market for BPO in the Asia-Pacific region. In the UK, Allianz, Aviva, Axa, Royal and Sun Alliance and Zurich Financial Services have all offshored business services to the subcontinent. Insurers have outsourced insurance services to offshore locations such as India for a number of reasons, including:
savings in processing costs due to cheaper labour;
the desire to minimise risk through multiple delivery locations;
enhanced customer service levels, including 24-hour service;
the flexibility and speed to scale up operations and enter markets faster when launching new products;
the possibility of managing peak business periods more easily and dealing with backlogs.
In recent years both the type of activities outsourced and the range of countries to which they can be sent have increased. Initially insurance outsourcing focused on two areas:
high-volume, rules-based, voice-intensive customer interactions;
non-voice-related back-office work in the personal lines area, such as document production and mailing, claims notification, underwriting support and renewals.
However, with greater use of technology and the automation of processes, low complexity products are now increasingly being underwritten offshore, and it is predicted that the more complex underwriting will follow suit. Offshore risk management, analytics and actuarial services will all experience above average growth in the coming years.
With a burgeoning domestic insurance market serving its own population and a huge growth in outsourcing, and with increasingly technical processes being moved offshore, there is a growing skills gap in India. The CII has been involved in helping insurance outsourcing organisations in India to establish professional development programmes and to provide qualification frameworks.
Solvency II
Insurers now deal in an ever-changing and challenging regulatory environment - both in terms of consumer protection and in terms of the expectations of regulators to quality of data, risk management systems and levels of capital to be held.
Solvency II, implemented in 2016, is a fundamental review of capital adequacy for the European insurance industry which implements new risk management standards and capital rules.
On 1 January 2016 the new Solvency II regime for the prudential regulation of European insurance companies came into force.  Solvency II is a fundamental review of capital adequacy for the European insurance industry which will implement new risk management standards and capital rules. It aims to secure a consistent and appropriate level of protection for consumers throughout Europe, by creating  a safer and more resilient insurance industry, reducing the probability of firms failing. Under Solvency II, firms have to hold enough capital to survive a 1 in 200 year stress on their balance sheet.
The key points of Solvency II are: 
market-consistent valuation of assets and liabilities;
enhanced quality of capital;
a forward-looking and risk based approach to capital requirements;
improved governance and risk management requirements;
a rigorous approach to group supervision; and
strengthened market discipline through increased firm disclosures.
The key facts in respect of Solvency II in the UK are:
ABI members invested over £3bn into transitioning to Solvency II.
19 UK firms received approval from the Bank of England to use their own Internal Model to calculate their capital requirements, three times more than any other EU state. More UK firms will be using Internal Models as part of insurance groups based elsewhere in the EU.
More than 400 UK firms are expected to be within scope
Customers will not notice any difference with their existing insurance or when buying new products.
The UK Treasury and the Bank of England have both expressed concerns about the impact of Solvency II regulations on competition in the insurance market and called for an early review. 
This quick reaction to the legislation, which only came into force on 1 January, highlights the seriousness of the industry's concerns and some of the limitations of Solvency II.
In its submission to the EU Commission in response to a call for evidence on the framework, the UK Treasury said that, while an initial review is planned for 2018, "our experience of implementing Solvency II to date is already raising issues around the impact of the framework on long-term investment and competitiveness of the European insurance industry".  "An inconsistent application will undermine the principle of the European single market," the Treasury said. "Finally, the impact of Solvency II on the EEA's international competitiveness in the continuing absence of a global standard for insurance regulation should be considered," it said. Also in this area the impact of the UK leaving the EU might have important consequences.
Key facts
Technology has a huge impact in the collection and analysis of statistical by insurers and relevant risk selection
Peer-to-peer insurance is a new mutual risk sharing mechanism, enabled by the ease of social connectivity and a move towards a "sharing economy".
Insurers have been able to factor in the price the inclination of each customer to accept a certain premium level without seeking cover elsewhere, moving away from risk rating factors into the evaluation of the availability of each customer to pay the highest possible premium.
Behavioural economics can explain both the decision making process of insureds when purchasing insurance but also  the behaviour of underwriters assessing risk
New technologies have automated most of the administrative and repetitive work of underwriters, who can now focus on higher value tasks.
The soft market has had a negative impact on underwriting skills, as underwriters are reluctant to ask questions or to challenge proposed policy wordings for fear of seeing the business going to elsewhere.
Useful publications
Duncan Minty, Think Piece Number 122, Price Optimisation for Insurance, March 2016
Ernst & Young, The future of Underwriting, 2014, Gail Mc Giffin
Deloitte Talent in Insurance Survey 2015 
Talent in the London Market, Deloitte and LMG, 2016
Mutual Insurance in the 21st century: back to the future?, Swiss Re Sigma, n. 4/2016
Behavioural Economics and Insurance: Principles and Solutions, H. Kunreuther and M Pauly, Wharton University of Pennsylvania, Working Paper 3 2014-01, February 2014, Philadeplhia.
Swiss Re sigma 4/2014 - Liability claims trends: emerging risks and rebounding economic drivers
What the Insurance Industry can learn from Behavioural Economics, Swiss Re, 2013
Call for inputs: Big  Data in retail general insurance, Financial Conducts Authority, November 2015.
Appealing to Millennials- Think Smart, not Hard, Marissa Valente, General Reinsurance AG, Bonn, 2015
Strategic Underwriting, CII Study Text 955, draft due to be published in early 2017.
K U Schanz, "The technology and data revolution in insurance: A brave new world?", Middle East Insurance Review, May 2015.
This document is believed to be accurate but is not intended as a basis of knowledge upon which advice can be given. Neither the author (personal or corporate), the CII group, local institute or Society, or any of the officers or employees of those organisations accept any responsibility for any loss occasioned to any person acting or refraining from action as a result of the data or opinions included in this material. Opinions expressed are those of the author or authors and not necessarily those of the CII group, local institutes, or Societies.