Examination of factors creating a "soft" or "hard" insurance market
Factsheet
Examines the principal reasons behind market swings. Competition and other factors can create a "soft" market which is good for buyers. Conversely, a "hard" market can be created, where insurers hike premium rates and buyers pull back on cover in the face of rising premium costs.
Last updated by author August 2015.
The insurance industry has been in existence for over 300 years; it is mature, stable and a critical component of economies across the globe. Insurers are subject to huge amounts of regulation to ensure that they remain financially sound and operate in a fair and competitive marketplace. Their contribution to the financial community is significant and the industry commands the respect of global investors. However, the insurance market is highly cyclical, with many and varied contributing factors.
Contents
This factfile examines the principal reasons behind market swings. Competition and other factors can create a "soft" market which is good for buyers. Conversely, a "hard" market can be created, where insurers hike premium rates and buyers pull back on cover in the face of rising premium costs.
The cycle can change swiftly; for example, the 11 September 2001 terrorist attack on the World Trade Center in New York caused major insurers and reinsurers to withdraw terrorism cover at a stroke. Previously, in 1993, the UK insurance industry withdrew terrorism cover in the wake of escalating bomb attacks on London and major UK cities by the IRA in the early 1990s. As a result the cost and availability of terrorism insurance changed dramatically overnight.
At the time of writing, the market is reaching the end of almost ten years of soft conditions. There is a school of thought that this is now the norm. A good number of readers will not have experienced life in the market before these conditions arose, so this factfile works through the subject of market swings in detail.
Overview of the insurance market
The insurance market is one of the most sophisticated financial markets in the world. It is also a successful one; insurance companies invariably appear on investment holdings for the largest fund investors, including pension funds and corporate stockholders.
It is also quite a self-contained market as its basic risk transfer products have few competitors. The regulatory environment supports this as it creates bars to those who desire to offer similar productsbut are impeded by the financial security and operational framework required. Where competition exists - for example, derivatives and other exchange trades - the insurance market tends to stand back, as the products are quite different to renewable insurance policies.
The market is made up of a number of different insurer categories, depending on the business they transact. Some insurers participate in multiple lines of business, others in one line only. Broadly, these lines are commercial, personal and speciality insurances. The life assurance sector is also significant; however, it is largely immune to insurance market swings.
Commercial insurance is sold to limited companies, and can range from coverage for small enterprises, through to cover for multinational conglomerates. Personal lines insurance is targeted at the general public - homeowners, car owners etc.
Specialist business comes in many forms and is often bespoke to the business need. Examples include warranty and indemnity insurances, weather placements etc.
It is becoming standard practice to divide each type of insurance into sectors, so commercial insurance providers have specialists in the aviation, transportation, automotive sectors and so on. In addition, each provider may further subdivide the coverage into casualty, property and marine lines of business. This allows for the development of expertise and aids tailored solutions for customers.
In the private lines sector, many providers now offer insurance to specific sectors - young drivers, over-50s, online only and so on.
The market owes its success to a number of factors, including its maturity and a robust attitude to underwriting. However, it does take knocks from time to time, and these can create the need for a sudden and swift change in the pricing strategy set by the players. In other words, it can result in premium hikes or reductions.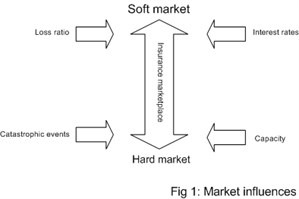 The market therefore needs to be flexible, and so creates tools to maintain flexibility. Technology is a significant component of the strategy, for example. Insurance companies are major investors in new  technology, which plays a part in all aspects of underwriting and claims management. This is particularly true in the personal lines sector, where it is important to offer premium rates that are constantly adjusted to reflect factors which dictate the rating levels. This will be discussed later in the factfile.
So, with the background set, let us examine the various institutions that make up the insurance market.
The players in the insurance market
Insurance providers, insurance brokers and insurance buyers form the market's core. All of these contribute to the factors that make up market cycles. Each party has different requirements and demands, and this influences the premium and claim flows which feed the cycle.
Insurers
Insurers work on the principle that they can spread and blend the risks they underwrite. They have a broad range of exposures on their books, representing a good cross-section of risks from both industry and the general public. This spread of risk ensures that income (premiums) and outflow (claims and administration) should be broadly maintained over an extended period of time. It is this long-term view that differentiates insurance from other businesses.
Over the past decade, one significant change has impacted on insurers and has reinforced the fundamental inflow/outflow equation. This is the sharp reduction in interest rates - a point we shall cover in detail later.
Insurers have opportunities to reduce their overhead costs through the use of new technology and the automation of many basic administration and back-of-house processes.
There is an ongoing call for greater efficiency in the industry, particularly around the issue of policy documentation (through automation). For simple business transactions such as personal lines policies, policy wordings should be in a standard industry format. Commercial policies tend to be bespoke; however, the renewal process should provide opportunities for automation - for example, when issuing renewal documentation (including policy wordings). These improvements have - and will continue - to reduce insurers' costs and allow them to pass on savings to consumers.
However, it should be appreciated that there are many factors which pressurise insurers to initiate a fresh hard or soft cycle. Generally, insurers are the market players that adjust risk pricing in order to trigger a new cycle.
Brokers
Brokers are there to create a market for insurance products, based upon the needs and demands of their clients. Brokers have a duty to ensure that these needs and demands are translated into underwriting submissions, thereby ensuring that the underwriter can appropriately rate a risk and charge the necessary level of premium.
Brokers must therefore tailor this duty to serve both their clients and the underwriters who provide the product. They act as genuine intermediaries and have a strict onus to perform the intermediary role in accordance with regulatory requirements. (Regulators can also influence market pricing - which we will discuss later.)
It is fair to say that brokers are able to influence the steps that create market swings, demonstrating the power they wield over market conditions. Often, the triggers are an attempt to push the market into a more competitive (soft) phase.
It should also be noted that brokers are remunerated by either commission or fees; commission will earn them more in a hard market, because commission levels rise in accordance with premium increases.
However, where fees are payable, the broker has a conflict of interest. When premiums rise, their clients will want to reduce costs. They may then apply pressure on the broker to reduce the fee. Conversely, when premiums reduce, the broker will argue for a higher fee as an incentive for the cost reductions they have secured.
The broker therefore plays a powerful role in managing market conditions.
Insurance buyers
Insurance buyers - also known as insurance managers or risk managers - spend a large amount of their time procuring and maintaining an insurance programme on behalf of the organisations for whom they work. 
They are mainly full-time employees of large commercial organisations, whose role is to identify the parent company's insurance requirements and to ensure the cover purchased is with quality markets and at a reasonable price.
Insurance buyers are the end users who either benefit or suffer as market conditions turn hard or soft.
Most insurance buyers report to a finance director or treasurer. These persons authorise the payment of insurance premiums. Insurance is often a "black art" to these senior managers, and insurance buyers tend to have a hard time seeking authorisation when premiums rise. 
For this reason, budgeting for market swings is important for insurance buyers and they will be closely following market trends, flagging when a market is turning hard at the earliest possible time to avoid internal confrontations at the point of premium payment.
Most insurance buyers will be given good notice of market premium swings, so the organisations they represent can budget for the additional costs.
Of course the insurance public are also insurance buyers but individually their contribution is insufficient to create a change in market conditions.  Organisations that represent the general public can lobby for market pricing changes, as demonstrated by the EU challenge to sex discrimination pricing which resulted in identical motor insurance premiums for all policyholders, regardless of sex.
Other parties
Reinsurers
Reinsurers provide the capital and capacity in relation to exposures that arise from catastrophic events or from an unusual pattern of events which impacts on mainstream insurers' profitability.
Reinsurance is bought by all mainstream insurers, in some shape or form, and it allows them to participate in a broad book of business without the worry of over-commitment. Insurers typically buy reinsurance where they have a concentration of exposures (for example, if their book of material damage business has a large number of properties in a central conurbation) or where they are underwriting business in zones with exposures to large-scale hazards, such as windstorms.
Reinsurers therefore often bear the brunt of claims when catastrophic events take place. Indeed, reinsurers and insurers alike often closely examine weather patterns around major windstorm zones such as coastal America to assess their net exposures.  Events such as Hurricane Katrina (which breached levies in New Orleans in 2005, causing $billions of damage) and more recently Hurricane Sandy (which struck New York and New Jersey) created sufficient losses to trigger rating adjustments to property insurance premiums. 
Claims handlers
Claims management companies - that is, third-party administrators or outsourced service providers - can influence the cost of claims, particularly where they have a large book of business. Their approach to claims management may be either aggressive or passive. Often, this is dictated by the wishes of the insurer or other customers, to whom they report.
An aggressive stance may lead to lower average claim payouts but also high litigation costs; a passive approach will have higher average payouts but less litigation cost.
It is also worth mentioning that these providers are often incentivised to reduce claims costs, and will work hard to identify issues which impact on claims (for example, fraudulent activity).
Regulators and legislators
Governments and regulators can have a significant impact on the insurance market. They can impose changes which affect cost on many levels, and which influence the market cycle.
Take the current example of Solvency II. This is a protocol aimed at addressing (and in some cases, increasing) the solvency margins held by insurers as a buffer in the event of significant losses. It is aimed at protecting policyholders and reducing the risk of an insurer failing financially. The effect of the additional financial provisioning will divert and tie-up funds, reducing the available funds insurers hold for investment and business development.
The 2012 EU ruling on sexual equality for life and motor insurance premiums, effectively prevents underwriters charging higher premiums to males or females and requires that they offer uniform premium terms. This has caused premiums to rise where insurers find they are unable to follow actuarial premium rating which - in strict underwriting terms - should bias premium levels in favour of women.
Market stability: fundamentals
Here, it is important to recognise the difference between life and non-life insurances. Life assurance is underwritten over a long period of exposure (literally - lifetimes) so it is generally shielded from annual or short-term market cycles.
Rating adjustments in the life sector might occur if there was a major event that caused sudden and catastrophic loss of life. However, recent examples of Ebola, "bird flu" and SARS have failed to impact. This is simply because governments now act swiftly to isolate areas of exposure; this limits the risk to the wider public.
There have been few knee-jerk reactions to market rates in the non-life sector and, for the most part, the market is stable. Indeed, in recent years the market has stayed on a remarkably even keel.
Insurance pricing across the industry allows factors certain types and scale of major events, based around historic data and also upon current knowledge of influencing factors - weather patterns, terrorist activity, changes in legislation etc (later, we will look at the impact of these events). The market can cope with an "average" number and cost of events and requires no pricing adjustment where they occur. This too helps keep the market stable.
In normal market conditions, insurers can also expect to rely on a level of investment income to boost profitability. Insurers employ some of the best investment analysts and they make the maximum use of the premiums they collect. Here it must be remembered that premiums are collected on "day one" and the insurer has the use of the premium either over the full policy period or until a claim occurs, whichever is sooner. Insurers are also taking greater effort to collect premiums early on, to ensure they have cash available for as long a period as possible.
At the time of writing, investment returns are small due to the economic climate and low interest rate set by the Bank of England. For this reason, insurers need to be smart when choosing where they invest. Increasingly, insurers are taking the opportunity to invest in new markets and new industries.
Another fundamental aspect to a stable market is healthy competition. Insurers do operate in a competitive marketplace, but do not engage in cut-throat tactics. A few companies have tried to "muscle in" by undercutting rates, but these are often promotional and short-term.
Occasionally, such companies have not been able to survive, as they take on too much business without a sensible business plan and with insufficient income to cover costs and claims. The industry still remembers the collapse of Vehicle and General Insurance Company in 1971. This was a massive insurance company that joined in a drive for cheap business in the years that followed the collapse of the insurance market tariff system - in effect a pricing cartel - in 1967. At the time, many insurers simply accepted business in an effort to accelerate growth, but failed to ensure that they had adequate funding to cover their costs and claims expenses.
The failure of Vehicle and General caused chaos. A programme of regulation was immediately initiated, which continues to this day. Indeed, the inadequate solvency margins maintained by Vehicle and General are still a top agenda item as the Basel II solvency regulations are rolled out.
It is worth mentioning another factor that can drive businesses into insolvency - fraud. In 2001, Independent Insurance collapsed into administration as it identified inadequate capital and reserves to cover its liabilities. Here the cause of the solvency issues was caused by:
fraud perpetrated by the management team, who had deliberately concealed losses; and
poorly crafted/ poorly-performing reinsurance contracts from auditors, investors and regulators.  
The collapse of Independent Insurance required Government intervention, through compensation payments by the Financial Services Authority (FSA).  The FSA was replaced by the Financial Conduct Authority (FCA) and Prudential Regulatory Authority (PRA) on 1 April 2013.
Finally, it is worth mentioning the overall economy, both in the UK and overseas. At the time of writing, the UK is in a state of recession with low interest rates, high inflation, high Government debt and an unsettled workforce which is facing the challenges of low pay increases and insufficient funding for retirement. Insurance companies recognise this complex set of financial circumstances and have modelled their products accordingly, making changes to payment plan options and keeping premiums low throughout the slump period.
Fortunately there have been few major insured events of any size during this period. However, we have now reached the stage where premiums are barely sufficient to cover claims and other costs. For this reason, there could be insufficient provisions in the event of a combination of future major insured events.
Factors that influence market pricing
In the next few sections we examine the factors that make for a hard or soft market and detail the specifics which can contribute to or trigger a market swing. (For a graphical illustration of this, see a recent market update by Scott & Broad | Clark Pacific.)
Factors that make the market soft
This section examines the conditions that make for a soft insurance market - that is, one where conditions are highly competitive and premium rates drop.
This is a good market for insurance buyers and brokers, as they can shop around for their clients and secure competitive deals. This market may have the effect of reducing broker fee or commission income, but it requires less effort and makes it easier to place cover for even complex risks.
However, it is not simply competition among insurers that stimulates a soft market; it is therefore useful to run through a number of the features that drive such conditions.
New capital
Confidence amongst the investors that support the insurance industry and consequent high share prices are often followed by an injection of capital - that is, money provided to companies in order to allow them to increase their capacity and thereby accept more business.
This naturally frees up underwriters to take on new clients. Often, they will target industry sectors where they wish to grow a book of business. When doing this, they will quote competitively and deliberately in order to grow this book.
The impact is that new aggressive competition enters that sector. This stimulates rival companies to reduce their rates, which in turn creates choice for insureds.
In a good number of cases, the choice is driven by value-for-money for consumers; it follows that insurers will offer wider cover at a lower cost than the competition. This is a perfect market for brokers who can offer (and stimulate) a choice of cover and cost, with comparative terms designed to make the final decision to bind cover easy for their customers.
This capital can also be found in a hard market, which will be featured in the next section.
Overcapacity
Overcapacity is found where capital floods into the market, as investors look to the insurance industry for short-term profits. This flood has the effect of increasing the flexibility underwriters have to take on or expand business, possibly causing them to scrabble for business, rather than selectively targeting an industry sector where they wish to grow business.
These markets tend to be chaotic; a recent example is the new capital behind online insurers, which has driven a rush to trade through the Internet. This rush quickly created a demand for "consolidators" or "aggregators"- search engines aimed at capturing the basic underwriting information for a prospective insured and gaining quotes from a number of online insurers.
For private lines customers, this immediately opens up a huge variety of choice - particularly where covers are quite homogenous. They can quickly identify the cheapest provider and make a fast choice to bind cover. Insurers who trade online accept the immediacy of such arrangements and have invested hugely in technology which allows them to flex pricing based on feedback about cheapest deals. Some resort to "freebie" tactics, offering soft toys or other gimmicks in a bid to differentiate their offerings.
The more players in the market that are desperate to use their capacity to gain new customers, the softer the market becomes.
Absence of major claims or events
Insurers and reinsurers always predict and account for a number of major events in any year. They usually adopt a calendar year as this suits matches reinsurance treaty placements. There is an annual global reinsurance conference which reviews (in joined-up fashion) the impact of past events and the likelihood of future events. This preserves some uniformity of reinsurance pricing.
However when that conference sits and finds that the year has been a particularly good one (that is, it has experienced few events) then signals immediately go out to the market that rates will be maintained; where the figures show reinsurers' accounts are in good shape, that message can translate to "business is good - go and grab more".
So, where often-repeated events such as America's coastal windstorms, European floods, Asian earthquakes and acts of terrorism fall in number and cost, it follows that such a market adjustment can quickly bring rates down.
Even in specialist markets (such as livestock insurance) rates can adjust downwards where the market has experienced low claims. A good example of this is foot and mouth disease as, in recent years, there have been no outbreaks. Of course, this means there is inadequate provision for any future major outbreak, so if an outbreak should occur, rates will inevitably rise dramatically and overnight.
At the time of writing the number of major events has been stable and claims costs have fallen, so this is a contributing factor to the current soft market.
Competition/market saturation
Rate-slashing occurs when new entrants come into the market. New entrants may be traditional insurers who decide to widen their range of products, or they may be existing financial institutions (such as banks) that see an opportunity in the market. 
These entrants may "buy" blocks or books of business from insurers that are wishing to exit or reduce their commitments or simply cash in on profits.
As before, a good example of this is the growth of online insurance offerings. Suddenly, insurers and others with expertise in offering services online see an opportunity to enter a stable class of business using a fast and increasingly trusted medium. This can create rivalry and over-saturation in certain sectors. At the time of writing, insurance for those aged 55 or over is highly sought-after and competitive, with a huge variety of companies and products to choose from. Also some underwriters are targeting young drivers as the rates for such business have been universally high for many years and some see an opportunity to gain new business.
Occasionally, non-insurance entities (retailers, utility suppliers, trade associations etc) will enter the market with insurance products. These are provided through an association with an insurer and are aimed at the entity's target audience. These are termed affinity arrangements and use the entity's brand supported by the operational machinery of the insurer - and occasionally a broker as well.
Such affinity schemes leverage the brand's existing customer relationships and databases, and all see the opportunity to add to their value proposition. Those with sufficient critical mass (or even wealth within their target audience) may wish to enter the market and use the link to the insurer to gain commission income. This in turn adds competition to the market, particularly where there is pressure on the entity's margins; they may then heavily promote a campaign to sell insurance.
Technology platforms
Better-quality underwriting information allows insurers to manipulate their rating systems to reflect up-to-date data and claims information. Technology allows this data to be made available in real-time. It also supports underwriting systems that can continually adjust rates. This ensures that premiums constantly reflect current risk profiles.
For insurers, this facility also ensures that there is less selection against them. That is, it guards against insureds who target insurers with false or manipulated information which might lead the insurer to quote at inappropriate terms.
Of course, in a soft market, technology also allows insurers to actively target the areas they wish to develop, and so focus marketing campaigns accordingly. This generates competition amongst the technology-driven insurers and many jump on the bandwagon, creating a soft market.
An example here is the private motor market, where fresh data around vehicle safety records, the cost of repairs and profiles of drivers who own a make/model of vehicle may open up new areas of good risks, which underwriters will exploit.
Cost efficiencies
There are other cost efficiencies which help contribute to a soft market. All can create savings which the insurer will wish to pass on to the customer. 
Simple administration routines such as issuing policy documents, certificates and effecting payments online creates cost efficiencies which allow premiums to be shaved.
Incentives
Many incentives are offered in order to lure both commercial and private customers to a particular insurer. These may be straightforward introductory discounts, no-claim discounts or loyalty reductions for private insureds. Some even offer physical goods such as pens and soft toys as incentives.
At the commercial level, underwriters are more sophisticated and will offer incentives for risk management measures that improve the risk profile. These recognise the underwriter's perspective of the price payable for the risk, allowing for the risk improvements that will influence him to price at lower cost. However, in practice and in a soft market, insurers will look for opportunities to offer rating discounts with moderate substantiation. 
In other words, in a soft market, discounts are more readily offered and the standards of desired risk improvement are reduced. This further adds to competition.
In a hard market, these reductions need to be specifically sought and justified by the insured.
Broker activity
Brokers play an important part in stimulating and preserving a soft market. Their actions can create such a market, and they are adept at spotting opportunities to initiate or perpetuate soft market conditions.
Indeed, it is part of a broker's duty to ensure their clients achieve best cover at lowest cost, so they use their intermediary role to contrast and compare coverage and cost. This in itself is aimed at maintaining competition.
Insurer consolidation
There is growing consolidation of insurance companies and brokers, driven by technology, efficiency and sheer desire to gain critical mass.  The impact of consolidation limits choice for consumers, which ought to reduce competition and stabilise or even increase premium rates; however past experience shows the critical mass and broader book of business can lead to premium reductions.  This is an area to be monitored should the consolidation progress.
Factors that make the market hard
New capital
In the previous section, we examined how fresh capital can inject competition into the market.  However there have been examples of reinsurers releasing capital in tough markets with the specific aim of benefiting financially from these conditions. An excellent example was the so-called "flight to quality", a principle adopted by reinsurers in the months after the terrorist attacks on the World Trade Center in New York on 11 September 2001 where insurers tried to buy quality business only and ditched business where the insured's attitude to risk management was perceived to be inadequate.
This generated an entire rethink on the world's approach to terrorism; a new phase of mass-murder had begun which was very different to the sporadic and less well-coordinated attacks of previous years.
The insurance market followed with an immediate knee-jerk reaction; many insurers simply exited the market or restricted the cover they offered. Pool Re, the UK insurer formed by the Government in 1993 following the IRA attacks of the 1980s and early 1990s, became the only option available to UK insureds as reinsurers pulled cover in the UK.
Here the UK Government effectively ensured the market did not collapse and provided continuity of cover where traditional insurers did not wish to participate and the Government extended its role as the insurer of last resort.
The other new commercial entrants were very selective as to the risks they underwrote and charged premium accordingly, often at many times the rates previously applied.
Capital withdrawn
It will be appreciated that some investors simply exit the insurance market when adverse industry trends are evident. This withdrawal of capital limits the available capacity to underwrite risks, so insurers can be choosy as to who they insure - and on what terms. A recent example is the move out of specific sectors, such as Ecclesiatical Insurance's decision to stop writing commercial UK care home business (it continues to write charity business).
Occasionally, capital is withdrawn voluntarily. For example, an investor might simply choose to channel their funding into different markets or geographies. This forces underwriters to shrink their books of business.
Insurers may also exit the market entirely, often due to financial difficulties (sometimes brought on by rate cutting - as evidenced by the collapse of Quinn Insurance in Ireland). This also restricts the market choice and offers an opportunity for other players to increase rates.
Major unexpected events
Other major events have occurred over the years which influence a quick and sharp adjustment in premium rates. European flooding, earthquakes in the Caribbean and windstorms in the Americas have all triggered rate increases at various points. This is notably where the costs have exceeded the accepted norm.
Aviation losses often trigger an increase in global market rates; the loss of two Malaysian Air craft in 2014 is an example of events that "spook" the insurance market, particularly where loss causes are unexplained. 
Insurers here have an ideal and valid excuse to raise premiums, and will often do so - either immediately after the event or at the reinsurance treaty anniversary when their own costs of reinsurance rise.
Sector events
Sector experience is important as a contributing factor to the hard market. In the aviation sector, the loss of a single aircraft may not create a shortage of capacity, but where several are lost in a single year then rates are increased as outlined above in the Malaysian Airlines example.
This fluctuation is particularly relevant where insurers concentrate on bespoke markets. The directors' and officers' liability insurance market is susceptible to rate hikes when governance breaches are revealed. These have widespread repercussions, with potential for class actions. The Libor rate fixing scandal in 2012 proved this.
The automotive sector has encountered rate adjustments following a number of highly-publicised vehicle recalls, with several relating to steering problems with Toyota vehicles.
Adverse claims trends
Aside from one-off events, underwriters need to adjust pricing based on changing claims patterns or trends. Here we consider a number of contributing factors:
Fraud
In the UK, fraudulent motor claims currently add £50-60 to the annual cost of motor insurance for every policyholder. The so-called "crash for cash" claims made by fraudsters against insurance companies have generated £millions, mainly false claims for whiplash injuries and fictional motor repair and hire costs.
Mis-selling 
Occasionally, insurers become embroiled in the mis-selling of products, such as payment protection insurance (PPI) policies - a topic that continues to dog the industry many years after policies were sold. 
Here, the regulator (the FSA at the time) stepped in and required insurers to offer redress through compensation to insureds. This in turn generates an industry for claims farmers and other quasi-legal intermediaries to hunt down as many claimants as possible. 
The sheer volume of claims for compensation that follows creates mayhem, which limits the opportunities for insurers to adequately investigate each submission. Added to this, the PPI products were sold through banks and other lenders. Their need to preserve their reputations puts pressure on insurers to settle quickly and with minimum fuss and possibly inadequate investigation.
Legislation
The ongoing UK reforms by the Ministry of Justice (aimed at speeding-up injury claims processes and reducing legal spend) placed an extra burden on insurers which manifests through higher claim administration costs. They must then pass this burden to policyholders through higher premiums.
Insurers have had to invest in technology to meet the new protocols and put extra resourcing into claims investigation, all of which adds cost to their claims handling budgets.
Class actions
The increasing trend for class actions in the UK, USA and in many parts of the developing world continues to put pressure on premiums, as insurers face escalating costs. 
Class actions rely on leveraging the combined power of claimants to make a uniform and unified claim on common grounds - usually against a single institution. The 2012 allegations of sexual abuse by Jimmy Saville and other celebrities will culminate in class actions against high profile politicians and public service individuals by affected people, and any defence costs or eventual settlements made (either openly or privately) by the organisations these people represent will be widespread and could impact on the insurance market.
Disease etc 
Disease claims have caused hikes in premiums to heavy industries over the past 50 years. Claims associated with asbestos, hearing loss and stress have impacted on employers' liability premiums. Claims have often been contested in courts, with liability decisions reversed or amended. For this reason, insurers still have difficulty budgeting for future loss reserve developments. 
The future of disease claims also poses risks for insurers which may impact on rates. The risk of cancer from use of mobile phones is an ongoing subject of debate and, if proved, may result in claims spikes going forward.
Self-inflicted lifestyle choices that lead to obesity and resultant illness such as diabetes and heart disease will contribute heavily to claims costs as people look to blame others for their deteriorating conditions. These conditions already complicate claims for injury where these conditions contribute to either cause or result.
Investment returns
Insurers rely on their cash flow and use of cash to underpin underwriting performance. They are major investors in their own right; in past years they have generated huge interest on the investments they make from premiums received on "day one" of cover.
This supplements their income and has allowed them to underwrite in soft markets at break-even terms as they continued to receive healthy investment returns.
However, investment returns are poor in the current economic climate. This then impacts directly on insurers and limits their ability to supplement or subsidise underwriting returns.
As the insurance market has been soft during the current cycle, it follows that underwriters are under pressure from inadequate underwriting profits and low investment returns. This therefore puts pressure on insurers to increase rates to improve their profit margins. After all, the insurance industry is also a staple investment of choice for financiers and investors (pension funds, for example).
Spooked market
Markets can easily become spooked by peripheral activity - that is, activity which may not directly affect the market, but which may have indirect implications.
As a result, the markets will underwrite cautiously, increasing premiums to provide some reassurance against this activity. An example is in sectors where losses have emanated or are suspected. 
Currently cyber risk insurance is being considered by many commercial businesses. The only reason it is being sought is because either a) the business suspects it has suffered a loss or b) it suspects it could be a target for attack and thus a potential claim. 
Therefore, many industries buying cover are "distressed buyers" and the underwriter may consider they are "selecting against" them by making an application for cover. This forces the underwriter to raise his price for cover in the expectation that a claim is highly likely from the applicant.
This market is maturing slowly as organisations realise the scale of the problem is becoming a public issue and seek insurance cover in less distressed circumstances; however the insurance industry has yet to fully understand or embrace the opportunity and has received much criticism from industry and governments for its tardy response.
Lack of confidence
There are a number of factors that impact on market confidence. These might then encourage either rating increases or induce decisions to withdraw or scale-down activity.
Here we consider some of these factors.
Credit issues
When the industries an insurer covers are impacted by the economic climate, it follows that some may be unable to pay all or any of their premiums, leaving insurers with bad debts.
This applies equally to insurers. In recent years, a number of insurers have failed - mainly due to their own financial misconduct.
Changes in perceptions of risk profile
Perception of risk profiles can occasionally change dramatically. This causes a knee-jerk reaction amongst insurers. 
In recent years the tradition of charities, associations and voluntary groups holding fundraising events attracting crowds of people has come under intense scrutiny. This has been partly driven by claims and partly by the fear of claims - particularly where local authorities or public services become involved (who are often considered a "soft touch" by claimants). 
A good example is the holding of bonfire displays, which has become almost impossible to insure - particularly after the 2011 bonfire at a Taunton rugby club where smoke drifted across the M5 motorway and caused a multi-vehicle accident.
Fraud
We have previously mentioned fraud as a direct contributor to premium increases. There are aspects of fraudulent activity which simply unsettle the market and - although small in number - this impact affects all buyers. 
Take, for example, the nasty development in personal lines markets covering pet insurance. It is evident that a small minority is deliberately hurting animals in an attempt to claim on pet insurances. This unsettles the market, with insurers facing concerns at the reputational risk of accepting risks where the policyholder is identified as a fraudster.
Market consolidation
Occasionally brokers, insurers and reinsurers combine forces and merge to create bigger and more secure entities. This has the effect of reducing the number of players in the market and limiting competition.
Premium reductions
Premiums are usually linked to financial measures such as payroll and revenue. These measures can be reduced in the current economy, as businesses struggle to maintain trade levels.
For insurers, this means reduced income, even though the underlying business risk may be unchanged. In an effort to maintain adequate premium levels, insurers may raise their premium rates to maintain level income.
Poor products or marketing
As previously mentioned, poorly thought-out or marketed coverage (such as payment protection insurance (PPI) and mortgage guarantee products) have damaged the reputation of insurers. Those that stay in the market are very careful with their underwriting and tend to raise their prices for the smaller market they serve.
Regulation
Regulation and the need for governance has been steadily increasing since the failure of Independent Insurance, and now insurance companies have a heavy duty to protect the interests of their policyholders and shareholders by maintaining adequate financial provisions.
Claims trends
"Claims inflation" is a major factor affecting most classes of liability business. It relates to the inflation costs associated with injury claims and includes many factors that keep these costs rising above normal inflation indices. Much revolves around the cost of medical treatment and long-term care; added to that is the tendency for courts to regularly award record sums in compensation for major injuries. 
Legal costs also rise as the claims add more complexity - there are ongoing efforts to identify costs of providing forward care, allowing for technology changes and the likelihood of future medical developments leading to any form of recovery from the condition of the claimant.
As previously mentioned, modern lifestyles can also complicats claims; overweight people may suffer to a greater level after an accident than someone who is in good health and who is able-bodied. Add to this the tendency for doctors to overprescribe medicines and the rising costs of pharmaceutical products and it is easy to see how claim costs for all classes of insurance (ie medical expenses, private health, liability and so on) are impacted.
These costs must be factored into future premiums required by insurers, so in a hard market there is often the need for catch-up.
Third-party administrators / independent service providers/ suppliers
Finally, there are many kinds of external suppliers who can influence market pricing (both positively and negatively).
Direct service providers such as third-party administrators and loss assessors can influence the claims costs, particularly if they are appointed by the insured. The natural tendency is to argue in favour of the insured (on property classes in particular) and it follows that higher claims costs lead to higher future premiums.
Other influencing factors here include car hire and vehicle repair costs, which influence both own damage and third party claim costs. A squeeze on prices in this area can influence premiums in the motor market.
Benefits generated in market conditions
Soft market
A number of advantages emerge in soft market conditions. These affect some or all of the key players in the insurance procurement cycle - insureds (buyers), brokers, insurers and reinsurers. Here we examine the key features of a soft market.
Clearly, a soft market benefits buyers - premiums reduce and coverage widens as underwriters try to secure or maintain business.
However, recent trends have shown that these advantages go beyond mere price and product. In a soft market, underwriters relax their underwriting information requirements and encourage the rollover of renewals, often offering long-term placements which allow the insured to reduce the amount of underwriting information supplied at renewals or anniversaries. 
This relaxed approach to underwriting often swings heavily into reverse when markets harden and underwriters demand greater information.  The risk for buyers is that insurers may have not been notified of significant risk changes during the period of relaxed underwriting and this will cause them to up rates when full information is provided.
In addition when markets are soft the insurer provides additional coverage - usually at no cost - as part of an incentive to retain the business. This can include increasing indemnity limits - which is then difficult to retract when the market becomes hard.
Buyers may also be able to reduce their policy deductibles. This is often counter-productive as it simply erodes the claims experience by submitting attritional claims under the policy. This then plays into the insurers' hands when renewal arises in a hard market and allows the insurer to increase premium in order to reflect the poor record (and possibly to reinstate higher deductibles).
One development arising from the current enduring soft market has been the tendency for insurers to issue a "reservation of rights" letter when a new large claim is lodged. This is a tactic that allows them time to investigate a claim without making an admission of liability and can be very convenient for them.
Commercial insurance buyers are very unhappy with the increasing use of this tactic and the trade association AIRMIC (which represents insurance and risk managers across the UK) has issued advice to insurance buyers on how to manage such tactics. There is also a move towards gaining a firm commitment from insurers not to use the reservation of rights opportunity and there has been some positive take-up to this challenge.
Hard market
In hard market conditions many turn to good governance and practice in order to contain their premium costs or demands.
The first reaction by insurers is to tighten-up on underwriting disciplines. For this reason, renewal cycles and documentation requirements are rigidly followed in a hard market. 
Getting back to proper underwriting ensures that the various parties are aware of the new playing field and what is required to secure renewal terms. The insured must acknowledge that risk management needs to improve in order to gain the benefits of these terms.
Renewal planning discussions can revert to sensible timescales, and all parties agree to work to tighter deadlines in order to provide the additional information required. This often happens very quickly when a market turns.
Insureds then generally take a very close interest in the data requirement, and will ensure it is correct and delivered on time.
The broker will also try to manage expectations on all sides. They may involve the commercial buyer directly in discussions with the market in order to ensure that the repercussions of the hard market (higher premiums, greater documentation, reduced coverage etc) are understood.
Of course, a hard market also promotes sensible underwriting, which allows rates to become realistic and builds insurers' profits. These will have been steadily eroding during the soft cycle, compounded by poor investment returns as outlined above.
How to mitigate the impact of the cycles
It is very difficult to control or influence the market as it swings from soft to hard phases (or vice versa). This is simply because of the numerous dynamics which make up the cycle, combining to create hard or soft conditions.
However, some thoughts are offered here as to how the various players in the market could position themselves or adapt so they are better prepared - and therefore less influenced by market swings.
Insurers can play a part by avoiding the kneejerk reaction outlined above. It is easier to follow the herd and increase premium rates when a market shift occurs. However, by analysing their client base and assessing the impact on their own account of the catalytic event, they can improve their reputation by standing firm on pricing or building-in rate increases over a number of renewals. 
This is easier said than done, as the usual tendency is to use every opportunity to increase rates. However, some insurers have resisted raising premium rates with major customers, or in sectors where they feel comfortable.
Hardening markets offer a huge incentive for both insurer and insured to discuss proper risk management initiatives - with rewards for implementation. Sometimes, this needs to be given through premium credits before such work is concluded, simply because the process of obtaining approvals for risk improvements and implementing them can be long-tail and costly.
The reassurance that the insured's risk profile is improving should help the underwriter to feel comfortable at maintaining rates through a hard market.
As the market moves from soft to hard conditions, insurers should take a long hard look at the "extras" often granted to customers in times of competition. They should then aim to limit or strip out these benefits and covers (or identify and raise a charge for them separately).
Similarly, as the market moves in the other direction insurers should resist the pressure to widen coverage, maintaining an eye on adequacy of premium rather than "throwing in" extras. Such additional benefits are often poorly thought out and are open to misinterpretation as these tend to be included in last-minute renewal negotiations. 
Certainly, the market seems to have learned its lessons by carefully defining what is covered by an "all risks" policy, rather than simply relying on blanket cover with limited exclusions.
Another temptation to avoid during this phase of market softening is the offer of multi-year coverage without carefully defined exit strategies or premium adjustment or amendment provisions. Insurers have difficulty blending multi-year coverage into their annual financial cycles, and effecting reinsurance can be problematic.
As previously mentioned, brokers will attempt to reduce the administration burden on commercial insurance buyers when markets are soft. This creates difficulty when the adequacy of underwriting data comes under attention. In this situation, it is important to maintain a flow of reliable and current information - brokers and insureds just need to be smarter as to how they gather and submit the information.
A key lesson here is that customers, brokers, insurers and reinsurers need to work together and maintain dialogue throughout the year and not limit this to time when cycles occur, recognising their implications and maintaining long-term joint plans on how they will deal with the inevitable turn at the end of a soft cycle.
Already, insurers are admitting that changes need to be made across the industry, led by their approach to underwriting. There is a so-called "new norm" that requires underwriting to reflect the five essences of the current insurance market:
there is a squeeze on underwriting profits;
underwriting margins need to factor profit - something that has been lost in the soft cycle;
new capital is entering the industry;
claims costs are increasing as natural disasters have a greater impact on business; and
new revenue streams are hard to come by in the insurance industry as the market has a low supply of new products on offer.
Of course, the broker plays a critical part through all types of market cycle. Their duties include the simple management of expectations on all sides, ensuring that the swings are flagged, prepared and budgeted for.
It follows that a broker should always be adequately paid to do their job. Commercial insurance buyers should negotiate fees with their broker that transcend these cycles and reward the broker for maintaining premium and cover stability.
Sadly, many commercial insurance buyers do not have this luxury as their financial masters will simply wish to squeeze premium spend at any available opportunity particularly as industry is slowly recovering from the economic slump at the end of the last decade. Of course it is important for insurers to know when to walk away from an opportunity presented by the broker. Likewise the insured should be alert to any deal that comes from an unknown or unresearched market - it may be fraught with issues.
Customer loyalty is important and the insurance industry is no different. It is largely a "people business", so all parties benefit from an amicable trading relationship which builds loyalty and forbearance during tough times.
Many insurers and brokers work really hard at this, organising events, seminars and workshops aimed at networking with customers, both existing and prospective.
Insurers' investment decisions in the current economic climate must be highly flexible. They are traditionally adept at maintaining a mix of investments which allow them to create and maintain a diverse book of investment business. 
This does not change in recessionary times, but insurers have to work harder on investment decisions and need to recognise the importance of this revenue stream. They need to shift their focus to investment returns, so that underwriting, claims and finance staff can see their contribution to profitability. This is something that is often lost in multi-discipline financial services industries.
Insurers and brokers need to maintain incentives to sales staff in both hard and soft conditions, as each phase brings its issues. Namely, premium reduction in soft markets (but possibly easier sales) and premium increases and tougher underwriters in hard conditions. Both sets of circumstances must be rewarded without losing sight of best practice and good governance.
Influencing the markets
All players need to adopt a sensible approach when determining what they can do to influence market swings. Importantly they need to anticipate the swings and prepare for the changes - this is good business management.
For commercial insurance buyers (that is insurance and risk managers) they must differentiate their risk profile from others. This will involve working on risk management improvements and presentations to the insurance markets, making them better positioned to influence underwriters' pricing.
Brokers need to improve the quality of their presentations to underwriters, likewise differentiating their clients in an effort to secure best terms. Equally they must manage their clients' expectations, providing good advance notice of price increases or coverage reductions.
This is when brokers' fee discussions become tough. Those earning fees rather than commission need to work harder and may seek to up their fee. This is a tough pill for insurance buyers to swallow when premiums are increasing.
During market swings, commercial buyers concentrate on ensuring that fees are transparent and that there are no inappropriate contingent commissions or other income for brokers which have been facilitated by the hardening market.
Commercial insurance buyers are mainly tasked to buy insurance from quality markets, that is, those that have recognised security ratings from rating agencies such as Standard and Poors. The financial fortune of insurance companies is relatively stable - thanks to regulators' actions around solvency - but there are still markets (particularly overseas markets) whose ratings are weak. 
Buyers that are under pressure to save cost may migrate to these markets during a hard market. Conversely, buyers may move away from markets part-way through an insurance year where the security ratings fall below an acceptable level;  they may then take up cover with more secure insurers - prompted by their own financial risk management disciplines or by brokers' recommendations. This often leads to duplication of cover and extra premium to the market - but it may be a price worth paying in order to maintain good governance on insurance buying.
Soft markets are influenced by many factors, as outlined earlier in this factfile.  It is mainly brokers who influence the softening of market conditions, simply due to their position as intermediaries; they have the remit to reduce costs for their clients and find outlets for insurers' products.
Attempts to influence the market outside this basic premise are less critical. While insurers may seek to grow their market position, they seldom do this with the aim of deliberately creating a soft market - they do it to grow revenue. 
Insurance buyers - commercial and private individuals - always aim to buy cover at the lowest possible cost, but they can only prompt or influence this to a modest extent.
Major events - the fallout
We have mentioned the major terrorist event of 11 September 2001 above, but it is worth revisiting some other major events which have caused major changes to market pricing in recent years.
The following are thought to be the five most expensive insured events since the attack on the World Trade Center:
Hurricane Katrina (Americas 2005);
Japan earthquake and tsunami (Japan 2011);
Hurricane Ike (Caribbean 2005);
Hurricane Ivan (Americas 2004); and
Hurricane Wilma (US 2005).
Weather-related losses have had particular impact and the insurance industry has often been criticised for its failure to respond swiftly to such major incidents by effecting immediate claims payments. In actual fact, governments have stepped back and played little part in business recovery, leaving insurers to foot the bill and set recovery strategy with insureds. It is not surprising that the market chooses to respond by decreasing capacity and/or raising rates (which again often attracts criticism).
More recently, Hurricane Sandy in New York State (2012) tipped the market a degree further towards hardening when losses running into $billions hit the industry.
The impact of major events is seldom immediate. As we saw earlier, it is not until the reinsurance market discusses the state of the market at the end of each calendar year that likely hardening or softening can be predicted with any degree of accuracy.
Often, market predictions are wrong. Despite any combination of events that would ordinarily lead to a market change, it is not until the annual reinsurance conference that the market's reaction is revealed.
Government and regulatory roles
Governments do step in to assist on major losses at a certain point. Hurricane Katrina resulted in pressure on the US emergency service FEMA to step in on the grounds that
the US Government had failed to maintain levies that would have prevented flooding; and
many of those affected in New Orleans did not carry insurance.
In the UK, the formation of Pool Re for terrorism insurance capacity was brought about by pressure from insurers, businesses and politicians. The need for insurance had gone beyond any reasonable expectations of loss, reaching a new type and level of exposure that required special attention.
Following the attacks on the World Trade Center in 2001, the US Government formed the Terrorism Risk and Insurance Act (TRIA) 2002. This is a similar vehicle to Pool Re. It also created a World Trade Center captive insurance company to meet clean-up costs and issue compensation in the immediate aftermath of the event.
Regulators across the globe are imposing ever greater restraint on insurers and brokers in an attempt to ensure that policyholders are protected against insurance companies' financial failure or market cartels.
At the turn of the Millennium, brokers were found to be retaining commission income from insurers, not disclosing or sharing this with their customers. The New York Governor Eliot Spitzer undertook a campaign to ensure transparency of pricing. It was established that the sums involved (which were rebated for the most part) had contributed to price increases - which, of course, influence a hardening market.
Solvency II provisions have also had an impact on risk pricing. The Chairman of Lloyd's has estimated that Solvency II will cost Lloyd's £300m annually. Some of this cost must be passed on to customers.
Mutual insurance companies
There are a number of mutual insurance companies which have been borne out of a hard market. This happens when insurance capacity becomes hard to secure and/or costs rise beyond buyers' reasonable budgets. 
These companies provide capacity at reasonable cost for their members. They allow their members to share risk profiles with similar companies. This creates peer pressure to meet minimum standards, which ensures that there is no selection against other members.
The energy sector has OIL Insurance, a Bermuda-based mutual insurer formed out of a hardening insurance market  in 1972 following several large-scale losses in prior years. It now has over 50 members, who place their risks with the company and are also shareholders/part-owners of the mutual.
The transportation sector has the TT Club, founded in 1968 as a Bermuda-based mutual. It has since grown into a global insurer, covering many aspects of logistics insurance.
Local authorities have experienced a mixture of a shrinking market for their main property and liability classes. This shrinking began with the failure of Municipal Mutual Insurance and continued with the entry/exit (in quick succession) of a number of major insurers, all caused by the sector's worsening claims record.
In 2010, certain London local authorities attempted to form the Local Authorities Mutual Limited - a mutual which would insure the councils' risks. This failed when an appeal was lodged in 2011 which proclaimed that forming a mutual was beyond the councils' authority and powers.
Pool Re (mentioned above) is a specialist UK insurer formed by the UK Government when the market for terrorism insurance shrank abruptly in response to the escalation of IRA bombings. Pool Re is not a true mutual, as the Government is still the "insurer of last resort". However, it operates on mutual lines and principles. Pool Re is contemplating developing its role to include providing cover for cyber exposures where these have a political motive.
Life assurance business
Life assurance is almost totally shielded from changes in market conditions. Simply, this is because it is long-term and so does not renew annually. Therefore, it does not face a traditional cycle.
Conclusion: the long-term view
Looking ahead, are market swings set to stay?
The insurance market is a stable industry and - with the exception of extreme events - the swings happen slowly and steadily.
Many pundits relish market swings and see the opportunity it offers to all sides (depending on the circumstances - some will be winners, some losers.) For this reason, there is little pressure to avoid these swings.
However there is growing speculation and analysis saying that market swings may not continue and the industry may now be in the "new norm" state described above.
In other words, the market has achieved a position where the factors that create hard and soft insurance markets have equalised.  Technology allows insurance companies to flex rates constantly, and the current economic situation suppresses the appetite to harden rates.
The economy looks set to stay in recession for some time. Interest rates are low, which puts pressure on insurers to maintain premium income in order to adequately cover losses. Interest rate levels look unlikely to change materially in the short-term.
Companies are better prepared to deal with extreme weather conditions as scientists keep us informed and better prepared against the impact of global warming and other influential factors. 
All this will demonstrate to the reader that although the market is not immune to cycles, it is perhaps better equipped for these. However, we can only speculate.
Further information
Selected articles
"The thinking man's market". David Benyon. Reactions, February 2012.
"A work in progress". Vicky Beckett. Captive review, January 2012. 
"Copying with Asia's future life and health insurance product needs. Peter Tan. Asia insurance review, May 2011. 
"Strategies for managing technology through the cycle". Darren Stevens. Asia insurance review, January 2011. 
"The economic lottery". David Provast. Captive review, August 2009. 
"Slaves to the cycle: premium finance - commercial lines". Jane Bernstein. Post magazine, 12 July 2007.
"Underwriting cycles: a synthesis and further directions". Mary Weiss. Journal of insurance issues 30(1) 2007. 
This document is believed to be accurate but is not intended as a basis of knowledge upon which advice can be given. Neither the author (personal or corporate), the CII group, local institute or Society, or any of the officers or employees of those organisations accept any responsibility for any loss occasioned to any person acting or refraining from action as a result of the data or opinions included in this material. Opinions expressed are those of the author or authors and not necessarily those of the CII group, local institutes, or Societies.