Update from Chair and CEO
Annual report 2020
Firstly, it goes without saying that 2020 turned out to be an extraordinary year, and our heart goes out to the many people who have lost their livelihoods or loved ones all over the world, as a result of the global pandemic.
In this update last year, we reflected on our journey as an organisation over the previous four years since the launch of the strategic manifesto. At that time, we were in the midst of the first lockdown in the UK with all staff working from home and the April written exams had been postponed until October. Inevitably, the pandemic has resulted in a financial deficit, understandable under the circumstances, but disappointing nevertheless.  We have however responded and put in place a plan to fully restore our finances over the next three years.
In this statement we will reflect on our response to the events of last year under three headings.
Firstly, what we learned quickly from lockdown; secondly what we want to continue to "Build Back Better" and lastly "How do we stop from returning to Factory Settings" across our whole profession, in the future.
What we learned immediately from lockdown
All of us work in the risk business and we know that it is an inherent aspect of risk that it never happens quite when, where or how you anticipated, however many risk registers and business continuity plans you have.
And it is merciless. What it will do every time is highlight the places where, as a business, you are up to the minute for the times you are in.
And it will punish you for all those things which are on your "to do list" or in the planning stage but not done.
So where were we on the front foot? Ironically one of our longest standing revenue streams is entirely online and fully adapted for people to do anywhere on their laptops and fit around other work commitments - our regulatory assessed learning. And this platform has lots of other online content on life skills and soft skills which is usually ignored but has seen a real uptick in interest from members and students who had more time and space to themselves during homeworking.
We were on the front foot in the way we adapted to agile working as a result of the move from our heritage Aldermanbury building in 2018. Our staff were personally equipped both with kit and experience to work away from the office and many were already mixing home working into their routine. We were able to close both our central London Lombard Street office and our South Woodford contact centre within a week, and still provide a full service for our members, students and corporate customers. In fact, the introduction of online chat during this time has proved very popular.
Connected to this we also had breaks in our leases in both the Lombard Street and South Woodford offices, which were there deliberately to give us the flexibility to match our space to our needs.
We were also on the front foot in our ability to get regular and timely information out to our members digitally. We had already set up our societies and made the decision to use e-newsletters and all digital content and communications.
We are incredibly grateful for the loyalty and support we have had from our members and encourage them to continue with their commitment to our profession and their individual development. There are examples of hardship and we are very grateful to our EATT Charity for their ongoing commitment to support members and students through this difficult time.
Lastly, and this is a real "thank you" moment, we had already completed a major piece of our IT infrastructure transformation, our "shop front", allowing members and customers anywhere in the world to self-inform, self-serve, pay and chat with us, in an up-to-date way.
Fantastic! But as you know this is not the whole story.
The lockdown immediately highlighted how dependent on traditional ways of working we still were in two major areas:
the use of physical exam centres and written exams, and the concentration of exams in traditional academic sittings; and
the hundreds of physical CPD and networking events we, and the local institutes, held for our members.
There were lots of changes towards digital delivery in train but we know we should have done more, sooner. The pandemic certainly lit a fire under all our activities.
Firstly, our exams - all exam sittings in April were postponed and for May and June as well we were not able to hold any exam sittings, due to the closure of nearly all physical centres, worldwide. When you think we normally hold about 73,000 exam sittings a year, this is a lot of students to disappoint, particularly as many of them were mid-qualification. We also have financial and mortgage advisers who need mandatory qualifications to trade and we have apprentices who have to complete their apprenticeships in a set time frame. For all these reasons we had to find a way to get our exam sittings back up and running.
To add to the challenge, we were in transition from one exam platform provider to another and we had given notice to our original remote invigilation provider to move to one with more experience and international reach.
So, what did we do?
Our first priority was to reinstate our compulsory regulated exams, so we launched a new process called record and review in July.
However, there were significant technical issues despite pre-testing, leading to complaints.
We brought forward our ability to offer remote invigilation by more than a year to coincide with the re-launch of our volume multiple choice (MCQ) exams on 20 August. Some technical issues were experienced again but were solved quickly and these exams are working on a fully on-demand basis.
Then in October we conducted another big tranche of previously written exams, and everything was going to plan, until the last day when the system crashed. We understand fully why this happened and have put processes in place to avoid it reoccurring.
Thanks to our learning, since then there have been far fewer issues, with eight complex exam papers run in March and April 2021.
There is nothing edifying about this experience either for us or for those students who had an unsatisfactory experience. Exams are inherently stressful, and no-one needs the logistics to cause any additional issues. One student upset is one student too many, so there is no level of complacency here and the public apology we put out to all members was heartfelt.
All the work did result in 27,000 exams successfully completed post the start of the first lockdown in 2020 with pass rates unaffected. In context, this is a significant achievement and a testament to the commitment of the internal staff to our members, students and corporate customers. We are fully committed now to the work to engage with our students to rebuild their confidence and get our core activity to exemplary levels.
So how about events - all face-to-face events were cancelled all the way from the second quarter of 2020 onwards. This has impacted the match-cost sponsorship which we receive from our corporate partners and there were some cancellation costs incurred. The fact we have been able to run so many replacement events, so successfully, digitally is testament to the innovation, flexibility and hard work of the events team and the Regional Marketing Managers at the CII and of all our Local Institutes, PFS regions and Society boards.
So overall, from a membership and student point of view, we are far better prepared now than we were for both the challenges of a digital world and those still presented by the pandemic.
And this goes to show that every crisis is also an opportunity.
"Building Back Better"
Since the first lockdown, we've formally adopted 'anytime anywhere' working for our staff.
In response to the pandemic, 100 CII colleagues across the organisation raised their hands to take part in 9 workstreams to determine how we will work in the future, not only responding to the immediate challenges of Covid-19 but importantly, to realise the opportunity of working differently in the future. Within 6 weeks, with energy and in a truly collaborative way, we designed 'anytime anywhere' as a flexible, agile and outcomes focused way of working. This has contributed in large part to the significant operational cost saving we were able to make at short notice in 2020, with more to come in 2021 to the benefit of all.
This is a culture change, but designed to take all the best aspects of how our team responded brilliantly to Covid-19 and turn this into the norm, to help us deliver more for all our members, customers and colleagues in our changed world.
This period has forced us to ask important questions about how our business environment will evolve and do we want to be early adopters, or late to the game?  We've chosen to be early adopters. For example, our AGM went totally virtual and our Annual Report went fully digital in 2020. The Journal and all of our publications are available digitally. We are using the opportunity to take a new sustainable approach to all our events for the future, led by our amazingly resilient events team. No plastic, no carbon footprint. Watch this space. And look out for the new form of the President's Forum and the Public Trust Awards.
These are just a few examples of how we have adapted and despite the challenges we can't help feeling genuinely excited about the leap forward we can collectively take between now and 2023. We must however continue to learn and accelerate the pace of change to remain competitive and relevant to our members, students and corporate customers in the modern world.
Don't Return to Factory Settings
There would seem to be three major areas where we need to take heed, but we also have an amazing opportunity as the insurance and personal finance profession.
Firstly, diversity and inclusion. There is a horrible tendency when money and business are challenged, to deprioritise any form of people or cultural change. This is completely counter-intuitive given that inadequacy in people and cultural matters is often how problems arise in the first place. We are making genuine progress on gender but we have barely started on ethnicity or older age, to name but two. We are determined that we won't let this issue go back in the cupboard.
Secondly, mental health and wellbeing. This again is something which everyone feels is a good idea "when there is time". Well now is the time. If remote and home working is going to be the norm, which it is, how do we build on the lessons of lockdown about caring and sharing to create community and connection in a new and better way?
And lastly, you will have seen the CII's central response to the business interruption case. There have been enough examples in the last 10 years of major expectation gaps between insurers and their customers. We must do better on areas where we know we have confusion or protection gaps, hence Professional Standards Director, Melissa Collett's and the CII's Chartered Transparency Forum's creation of a companion guide to our code of ethics on how to ensure the profession meets customer expectations.
There is so much knowledge and expertise out there with our members, students and corporate customers, let us work together to put this to good use for society.
Sian Fisher
CEO of the Chartered Insurance Institute 
Dr Helen Phillips
Chair of the Chartered Insurance institute
Welcome to our new Chair, Dr Helen Phillips
The CII has an independent Chair for the first time in the professional body's 108-year history. In July 2020, Dr Helen Phillips began her appointment working closely with CEO Sian Fisher and the CII President, in a position which members voted to create at the Institute's AGM in 2019.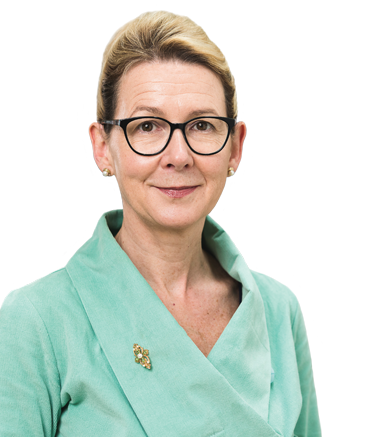 Dr Phillips' career has spanned the public, private and not-for-profit sectors and she is currently independent Chair of the Legal Services Board; Chair of Chesterfield Royal Hospital NHS Foundation Trust; and founding Non-executive director of Social Work England.
Addressing the role of the CII, she commented:
"The public in general and consumers in particular should have an expectation that those advising them who are professionally qualified are competent and uphold ethical and professional standards. A growing perception of the insurance and personal finance sector as a united profession will build trust. Our role is to positively impact the sector through our leadership and engagement with members to build trust in the profession. In the next year, given the challenges we have all faced with the pandemic, it is important we play our full part, not only in recovering as an organisation, but in the recovery of the reputation of the sector."