United international profession
Annual report 2020
We offer an update on both the performance of our international operations and strategy going forward. We also discuss the appointment of a new engagement board member for international to ensure that international matters gain the focus they require at board level.
International strategy:
One of the elements of the strategy outlined in 2016 as in need of further support and investment was the international opportunity. In October, Chief Customer Officer Gill White took on responsibility for international (excluding Asia Pacific) with a view to building a partnership approach to finding organisations that provide what the insurance and personal finance professionals need in the international market and accrediting, endorsing or licensing these organisations.
Commenting on the rationale for operating internationally Gill said: "The CII's mandate is to build public trust in the profession as a whole, not just in the UK, and with a significant number of our members coming from multi-nationals, we need to have multi-national reach to support them. Since its beginnings the CII has collaborated internationally and we have 37 Affiliated Institutes enshrined in our bye-laws, alongside our 56 Local Institutes in the UK.
Our job is to increase professionalism throughout the world; now, if that means someone else is doing it and doing it well, then that is as good as us doing it. Obviously, a local Institute will be in a market at the right price in the right language with the right content, and it's naïve to think that a UK business can effectively achieve that, which is why I believe the partnership model will be a game changer for us."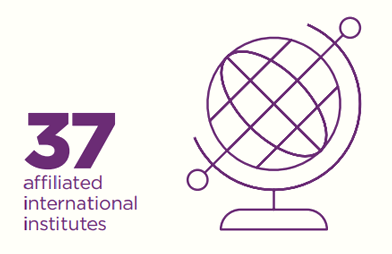 In each of the international hubs the CII has established, we have specific geographies that we are targeting where we believe the partnership approach will bear most fruit, and then if other opportunities are presented to us, we are reviewing the business case and making a conscious decision about whether the CII gets involved or not. In essence, focusing where there is demand and opportunity.
One such opportunity was the continuing demand from some of our clients to come up with a motor insurance related qualification for India specifically. Supported by the fact that more than 40% of the people working in the general insurance sector in India were linked to the motor insurance segment, we developed the Certificate in Motor Insurance (India). Local subject matter experts in India were hired to author the study material and question bank for the exams.
Another notable development was the CII becoming an accredited member of the Commonwealth in May 2020, joining the category of professional and civil society organisations. The CII has committed to the Commonwealth's 16 values and principles, which include a strong focus on gender equality and facilitating access to the profession for people from all backgrounds. Queen Elizabeth II, who is the patron of the CII, is also Head of the Commonwealth. Our Royal Charter requires us to ensure insurance and personal finance make a positive contribution not only within the UK but in other territories and we can more easily achieve this by working in collaboration with the Commonwealth and other Commonwealth-accredited organisations.
It is also a natural synergy with our members and students, the majority of whom reside in Commonwealth countries, and our values, legal systems and common language.
CII Hong Kong:
The CII Hong Kong is the only Institute the CII owns outside of the UK and its development since 2019 has been led by Keith Richards, Chief Membership Officer and Chief Executive of the PFS. The key to establishing itself in the market has been engagement with government and regulators, and in a relatively short space of time the CII has established credentials with both. As a consequence, the CII is now a formally recognised professional body in Hong Kong and for the Asia Pacific region having been invited to form part of the regulator's practitioner committee. CII Hong Kong was also appointed by the government to their professional development programme. In addition, the CII is one of only four organisations that can access government grants towards professional development in the region. In the last 12 months therefore, the CII has become well-known for being an extremely well-structured and established professional body for the region.
The potential in the region is significant for the insurance sector but even greater for the personal finance sector. The CII has been less active in promoting financial adviser qualifications internationally, but international markets are fragmenting or segmenting in a very similar way to the UK where people that give financial advice, even where they might be part of an insurance company, see themselves as financial advisers rather than insurance salespeople.
The numbers are telling, in the UK there are about 27,000 regulated advisers, in Hong Kong 130,000 and in China 8.5 million. The CII had no relevant qualifications for the region, and therefore has started to develop relevant qualifications for the sector and created a Personal Finance Society Asia Pacific proposition that has already seen a number of firms in the region become associate firms.
Due to Keith's significant experience as a senior executive and engagement with governments and regulators, together with success in growing the membership of the Personal Finance Society in the UK, he has driven a new strategy for the CII in Asia Pacific which will be used as a blueprint for other regions.
Commenting on the opportunity he said: "Establishing CII Hong Kong as a registered and recognised professional body for the region in such a short time scale has been a significant achievement and all credit to our dedicated and committed team led by Regional Director Kenny Siu. Our relationship with both HKSAR government and Insurance Authority has resulted in our involvement in a formal government professional development programme and a seat on the regulator's advisory committee. Asia Pacific was the only region to see membership growth in 2020 and with a more diverse and sustainable business strategy established, which includes the introduction of PFS Asia, I have every confidence that it will become a blueprint for others to replicate."
Increased representation for international at board level:
The CII's Local Institute network has ensured our delivery in the UK is not purely London centric but we want to work much more closely with our regional heads and our international affiliated institutes to deliver the same for our international customers.
Pauline Azzopardi was appointed to a full board role as our international member engagement representative and Charles Washoma was appointed to a new vice president role for the affiliated institutes to mirror our current VP for our UK Local Institutes.
Pauline has enjoyed a career of more than 30 years, working in senior roles with some of the world's largest international banking and insurance institutions, including Munich Re, HSBC and Middle Sea Insurance (currently Mapfre).
Many of the CII's members outside the UK are also members of an insurance institute affiliated to the CII. The vice president will work to raise the profile and act as ambassador for this network of international affiliated institutes, encouraging collaboration and sharing of good practice.
Charles is a business executive and management consultant working in East and Southern Africa. He has 28 years of work experience, 22 of which has been at senior management, executive and board of directors' level in insurance, risk management and consulting services.