Delivering for customers
Annual report 2020
Gill White joined as Learning and Assessment Director in January 2020, since then her role has grown to include both the CII's marketing and international functions as well, under the title of Chief Customer Officer.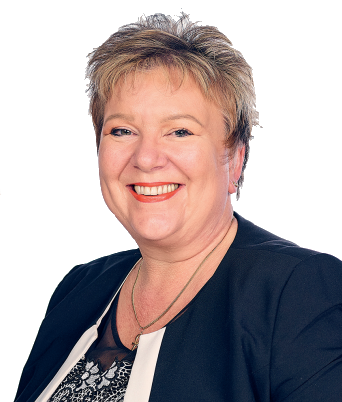 Her experience is significant and varied, having performed a similar cross-functional role at the Chartered Institute of Personnel and Development, preceded by a variety of Learning and Development and Operational roles at Vodafone, Xchanging and SSP.
In this section we discuss with Gill how the CII has sought to deliver its learning and assessment offer for its customers in the year and its plans to improve that delivery in 2021 and beyond.
"The technical issues that members faced in sitting their CII exams during 2020 were totally unacceptable, particularly given the significant stress caused to everyone by the pandemic, as acknowledged in my apology to candidates in October.
I have personally dealt with many of the emails about the exams and we have worked exceptionally hard with our supplier to understand the issues and resolve them. This has resulted in far fewer problems since November.
On a positive note, despite these challenges, in 2020 overall our exams had some of the highest pass rates ever and we have learnt an awful lot from the experience, with most written exams now converted to on-screen format some 2 years ahead of schedule. We are far more prepared now for digital exam delivery going forward," commented Gill.
Gill points to the development and launch of the personal lines proposition during the year as one of the team's key achievements:
"The work had largely all been done before I joined, but I can honestly say that our personal lines offer is fabulous.
It starts with a free course made available as a massive open online course (MOOC) on FutureLearn, with an introduction to the various personal lines, such as car and pet insurance, through to the actual qualifications, which are the awards.
The proposition was created off the back of an understanding that within the market, especially in customer service, a lot of people will tell you that they work in a call centre rather than that they work for an insurer, so the idea was to, at volume, train customer service agents and high-volume call centre agents to understand more about the insurance profession and their role within it.
It is a very different offer from a professional qualification, much lighter touch, so lots of video, digital, flexible, engaging, modern learning."
Gill's team are also responsible for the CII's partnership with universities where the strategy has been to seek out universities and encourage them to ask their students to take some of the CII's modules.
"This means that the student comes out not just with an academic qualification from the university, but also with a professional qualification as well, so they're more job ready. This gives them a bit of leg up into the job market, a bit of a unique selling point if you like, and that works really well," Gill added.
1,227
Massive Open Online Courses (Mooc) active learners
147,000
Assess Registrations – CII corporate training, testing & compliance solution
The CII's learning and assessment strategy moving forward is in three phases, getting in shape; playing to our strengths; and going for growth. The effective implementation of this strategy will enable the CII to become the fully digitalised modern learning offering that students deserve and need.
Next steps
"Right now, if you want to study with us, you buy a book, study that book and then you sit an exam. There is no support, no quality of learning experience and little that is mobile. As of next year, we will start to look for great partners to help us deliver a properly supported digital offer for students," Gill commented.
To support this aim, in 2020 the CII launched a new e-commerce platform which gives greater capability to the customer, simplifying the way we present our products and services to them and thereby improving the overall buying experience. The new platform is multi-currency with websites offered in different languages, where it makes sense to do so, while providing vastly improved levels of flexibility for the customer to make changes to existing bookings. There is also an improved member portal and a portal dedicated to insurance and financial planning firms to manage employees' learning journey. This represents only the first step in leveraging technology, and especially use of data insight, to support the CII and the needs of our customers. Next phases include improving the membership and learning experiences with more functionality and flexibility.
Given the effect of the pandemic on the CII's revenue in the short-term, Gill is focussing on the first of these areas - getting the internal team in shape by simplifying processes and reshaping the offer so that any future outsource option is a partnership on a known solution. She is then hopeful that with an improvement in exam revenue in the second half of 2021, she can progress plans to become an end point assessor organisation for apprenticeships and introduce experience assessment to enable individuals to become Chartered or a Fellow based on their experience not simply via sitting exams.
Manuel Thompson-Oloko, Early Careers Manager
Manuel Thompson-Oloko, Early Careers Manager at the CII works with Gill delivering the CII's apprenticeship and kickstart schemes. In 2020, the apprenticeship team has orchestrated trailblazer activities; further aligned CII qualifications in apprenticeship standards by embedding CII exams into the apprenticeship end point assessment and exceeded 500 registered firms on the Aspire apprenticeship programme and more than 350 enrolled learners. 
The strategy going forward will revolve around alignment, access and collaboration, perception and progression, and celebration. The aim longer term is that the CII will apply to join the register of approved end point assessment organisations to deliver full assessments for six apprenticeship standards.
Commenting on the progress over the year, and the role of the CII in encouraging apprenticeships, Manuel said:
"Apprenticeships are at the core of the government's skills agenda and fast becoming integral to insurance and financial planning firms. The CII plays a pivotal role in engaging all relevant stakeholders and ensuring apprenticeships remain modern, relevant and diverse."