Sian Fisher biography
Chief Executive Officer
Sian Fisher ACII
Chartered Insurance Practitioner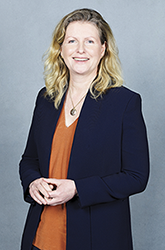 Leading the professional body for insurance and financial planning since February 2016 follows a distinguished career in the sector, which has included senior roles at a Lloyd's Syndicate, a UK and European insurance company, a market leading MGA, a major international broker and US corporate. 
Sian has also run her own start-up intermediary and was part of the creation of the Managing General Agents' Association. 
A graduate of the University of Oxford with an Executive MBA from Harvard Business School, Sian is a strong advocate for equality. She is a founding member of the Insuring Women's Futures initiative and a Committee Member of the Insurance Supper Club. 
Ms. Fisher is also a Non-Executive Director at Asta Underwriting Management, a Vice President of the Insurance Institute of London and board member of Insurance United Against Dementia (IUAD).