Jonathan Clark biography
Immediate Past President
Jonathan Clark ACII
Chartered Insurer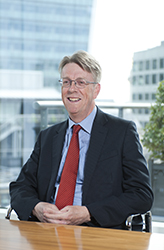 Jonathan has been a claims professional throughout his insurance career and believes that delivery of the claims service is a critical component of the insurance promise. 
As a Chartered Loss Adjuster and Chartered Insurer, Jonathan has dealt with claims in over 50 countries. In 2013 he joined SCOR where he is Global Head of Single Risks Claims Management. Prior to joining SCOR Jonathan has been a member of the executive teams of Global Adjusting firms Crawford and Cunningham. Between 2007 and 2009 he was claims director at the Financial Services Compensation Scheme. 
His professional work has focussed on business interruption and financial loss exposures and he has led teams providing claims responses to several major multi-claimant incidents. Jonathan is a committed advocate for developing talent in claims and in the market generally.  He has lectured regularly on technical and claims management issues throughout his career and these include presentations as part of the SCOR Campus programme. 
Jonathan is Past President of the London Business Interruption Association and past President of the Chartered Institute of Loss Adjusters and a past examiner for them.  Within the CII he has been Treasurer between 2002 and 2007 as well as Chair of the Faculty of Claims.  He is past Treasurer of the Insurance Institute of London and an advocate mentor for the IIL.
He holds degrees in Biochemistry and Biochemical Engineering from Oxford and London Universities.