Dr Helen Phillips biography
Independent Chair
Dr Helen Phillips (Chair) BSc, PhD, FRSB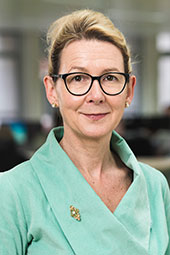 Dr Helen Phillips is an experienced executive and non-executive, with a career spanning the public, private and not for profit sectors.
Since stepping down from executive roles in 2014, Helen has taken up a number of non-executive appointments. In 2015 she was appointed as a lay member of the Legal Services Board (LSB), the oversight regulator for the legal services sector. She was appointed independent Chair of the LSB in 2017, and will serve a term to 2023.
In 2015 Helen was appointed Chair of Chesterfield Royal Hospital NHS Foundation Trust and in 2018 as a founding Non-Executive Director of Social Work England.
Helen's has also held non-executive director roles in Higher Education and the schools sector.
Previously Helen was Board Director of Yorkshire Water with responsibility for customer services and networks, and Chair of Loop Customer Management Ltd, a Kelda Group subsidiary.
Prior to that, her career as a regulator was as founding Chief Executive and Board member of Natural England, and before that as Director, Wales of the Environment Agency.
Helen has a BSc in Zoology and a PhD in Environmental Science from University College Dublin. She is a Fellow of the Royal Society of Biology.